What is happiness?..How do you define hapiness?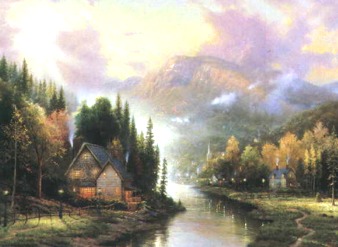 Philippines
May 1, 2008 4:49am CST
Simplicity for me is a form of happiness. A simple life or living, contentment of what i have is a form of happiness. Friends and family is happiness. So i guess happiness is not hard to find...its really up to us on how we define happiness in our life
6 responses

•
1 May 08
happiness is the absence of disatisfaction. happiness is completely in your own hands, you can squander your happiness by being dissapointed with this or that, looking at the world with a half empty glass etc. happiness can be loads of different things but I think it is accepting who you are in the place you are in the time you are ! hope that makes (some) sense!!

• Philippines
1 May 08
Hapiness means being contented in life and those things you acheived. Every person has a different hapiness. Some people are happy being rich and famous while some are just contented living a simple life. So I guess that nature's definition of hapiness is living your life the way you want to.


• India
1 May 08
well according to me happiness is a feeling that none can express in any word available in world.It is just you can feel only when you have it in your mind.Of course its meaning may be different to different individuals. happiness is totally depends on one's perception to his or her life and what he/she wants to get from life and after all it is your wish which make you happy so as i say happiness depends on your attitude toward life

• India
1 May 08
Simplicity and contentment is what happiness is as far as I am concerned. If you are contented then you feel happy in whatever we do but no Human is contented with life and as such I don't think we are ever happy momentary happiness Well yes we are happy momentarily but in the long run i don't think we are...........are we?

•
1 May 08
Happiness is something that cant be bought,it comes from within.Its a feeling that asll within your world is well.Its a feeling that a lot of people dont have too often.I think because our expectations of the world are so high ,,we tend to get dissapointed when things dont live up to our expectations.Happiness for me would just be the knowledge that my family were all doing ok,and that life was fairly peaceful