Just got my Free $25!!! proof of check!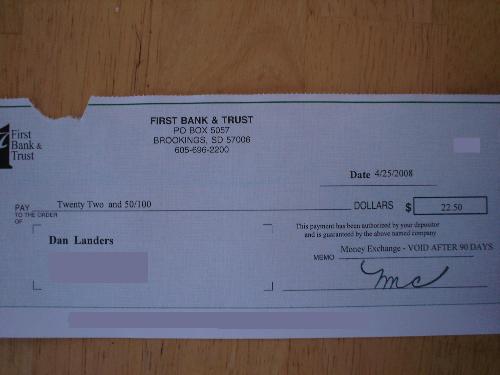 United States
May 1, 2008 2:11pm CST
Just wanted to let everyone know that I just got my check in the mail for $25 FREE!!! Thats right free!! I took a picture of the check and have it linked in my profile! Check it out! You can get $25 FREE too! and $10 for each referral you send over! Check out my profile to get your $25 Free! I know the check is for $22.50 but that is after the fee for issuing a check! But what the hey ITS FREE MONEY!
1 response

• United States
1 May 08
I got the whole $25 through my paypal account. Yup. It's real and already spent. lol

• United States
1 May 08
how did you get it to go to your paypal account, I tried that and they said that it was unavailable! WTF! Oh well we had a really nice lunch today with the cash!!!

• United States
1 May 08
Sorry. I sent it through my bank account. Just like the paypal set up. I was in a hurry when I posted that earlier. They do the verification just like paypal and then send it to your account without the check fees. I just don't know of any other place that uses Revolution as a pay site. Do you?