My beautiful babies

United States
May 5, 2008 1:03pm CST
I have the distinct pleasure of being allowed to share my home with 4 very affectionate, unusual cats. Three are grey-stripped tabbies from the same litter that I rescued from my warehouse job; Kita (male), Nemo (female) and Crash (female). All of them love to groome me. The fourth is spotted black w/brown swirls and white. Cougar (male - 5 months old) plays fetch...the plastic rings off the milk jugs, or a piece of paper if he loses the former. He keeps the older ones (2 yrs old) on their toes and keeps them playful. I derive great joy from their companionship - I can't imagine my life without them.
2 responses

• United States
5 May 08
Isn't haveing kitties wondfeful? I rescued my two girls form the humane society. They were in liter of 3 but one of them had already been adopted so I took two. They will be 5 months old at the end of the month I have had them for about a month and a half now. They love to play with little balls and a toy mouse my husband bought for them.

• United States
5 May 08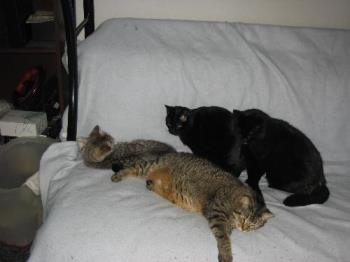 I also have the pleasure of sharing my home with 4 female cats one is 8 years old all black(shadow) then a black one (midnight) and (tiger) they are 4 and then (serenity) she is just over a year and I would be lost without any of them they are my kids so to speak and they were all abandoned at one time til I took them into my home.Talk about spoiled and all different attitudes.