Sheriff Joe is at it Again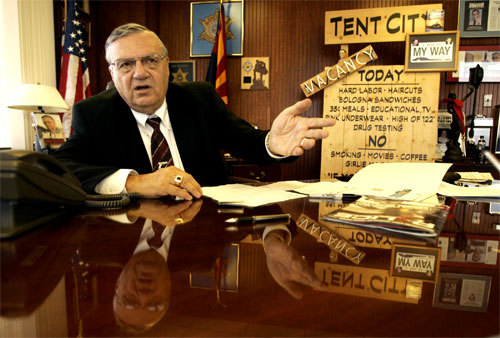 United States
May 5, 2008 2:26pm CST
You all remember sheriff Joe Arpaio of Maricopa County, Arizona, who painted the jail cells pink and made the inmates wear pink prison garb. Well, it seems Maricopa County was spending apporx. $18 million dollars a year on stray animals, like cats and dogs. Sheriff Joe offered to take the department over, and the County Supervisors said okay. The animal shelters are now all staffed and operated by prisoners. They feed and care for the strays. Every animal in his care is taken out and walked twice daily. He now has prisoners who are experts in animal nutrition and behavior. They give great classes for anyone who'd like to adopt an animal. He has literally taken stray dogs off the street, given them to the card of prisoners, and had them placed in dog shows. The vest part? His budget for the entire department is now under $3 million. The prisoners get the benefit of 28 cents an hour for working, but most say they would do it for free, just to be out of their cells for the day. Most of his budget is for utilities, building maintenance, etc. He pays the prisoners out of the fees collected for adopted animals. Maybe the rest of the country should take a look at the way he runs the jail system, and copy some of his ideas. So many animal shelters run by counties have run out of funds or come under fire for mismanagement lately that perhaps this would actually work. I know we haven't run out of prisons or inmates. What do you think?
6 responses

• United States
6 May 08
I have been an avid fan of Sheriff Arpaio for many years now. Only politicians can argue against his successes. If Sheriff Arpaio ran for President, he would certainly get my vote !!! It's truly a shame that we can't find politicians for office that have his integrity and style !!!

• United States
9 May 08
I love his ideas, the only thing that worries me is, how many of those prisioners have ever been charged with cruelty to animals. Are they screened to make sure it isn't in their past?


• Dominican Republic
6 May 08
Oh nova what a lovely story, the man should be given a medal. He has some brilliant ideas, doesn't he! I hate to see stray animals and here is a good way to look after them as well as give some meaning to the guys life in prison. What a perfect combination. Thanks for sharing this with us.

• United States
5 May 08
I think it is awesome and caring for animals is also therapeutic for the inmates as well. There was (is?) a women's prison who trains guide dogs, too...same premise. I think it's wonderful.

• United States
9 May 08
this man is a genius. he is doing a fantastic job and like you said..his being re-elected is proof. like someone above said...if only the rest (shoot even a 1/4) of our elected officials could think and run their respective departments like Sheriff Arpaio, then the country would be SO MUCH better off!

• United States
9 May 08
I agree, I wish the rest of the country would sit up and pay attention. Apparently he is in trouble with the ACLU again though for his enforcement of immigration laws. Apparently ICE wasn't doing enough in his eyes, so he had 40 deputies trained specifically for enforcing immigration laws, bought 4 new buses, and painted all his buses and vehicles with a mural that has a special hot-line # on it where you can call to report suspected illegal aliens. The new buses are just for hauling folks back to the border. He's kind of a 'Git-R-Done' kind of sheriff.