Potty Training Tips...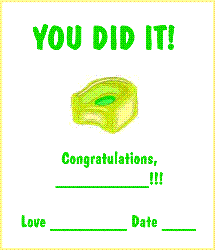 United States
November 1, 2006 4:56pm CST
I have two daughters (3 and almost 2 years old). Lydia, the youngest, will go on the potty but isn't consistent. Lina, the older one, is developmentally delayed (Autism Spectrum Disorder) and isn't talking or communicating very well, especially when it comes to the potty. She does know what potty means but I still can't get her to go potty on it at all. She LOVES to sit on it and both girls know how to properly wipe themselves (or at least as well as the are able to for their ages). Does anyone have any tips on what I should do? Has anyone heard of the potty song? Any and all response would be greatly appreciated. Thank you very much!
1 response

• United States
2 Nov 06
With all of my kids we made potty charts and everytime they went to the potty they got a sticker and when they got 10 stickers we would take them to buy a toy. They loved putting the stickers on the chart and seeing all the stickers they got and getting a toy it worked for all 3.