What was your childhood nickname?

Canada
May 12, 2008 9:46am CST
I was just wondering if anyone else here at mylot had a silly nickname as a child? When I was really young I had a book called Nikki Bunny Goes to The Doctor, and from that book I got the nickname Nikki Bunny. It'd kind of funny when I think about it now, because had I carried that nickname into adulthood it would have made a great stripper name, had I chosen to go that direction with my life (I didn't), hahahahaha! So what was you nickname as a child? If you had kept that nickname until today, what type of assumption do you think it would cause people to have about you now?
4 responses

• United States
12 May 08
My nicknames were, Cow Eyes and Boo Boo. Cow Eyes was given to me by my sisters friends because of my big brown eyes and Boo Boo was given to me because I loved the Yogi Bear and Boo Boo show..Then again, Boo Boo could have been because I was one..

Either way, I hated both names, so they didn't follow me into adulthood..


• India
12 May 08
my child hood nick name was sheetu which was a short form of my name. few of my old frnds still call me by that name.

• United States
13 May 08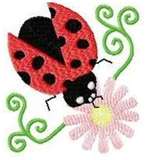 My grandfather was the one who gave me my nickname and it was Ladybug. I guess because I was quite shy as a child and acted lady like but I out grew the lady like ways when I got older but never out grew the nickname. Now a few of my family members call me that, not too many though. I love it and it's the reason why I love ladybugs and daisies so much.

• United States
13 May 08
Oh yes I sure do! lol Earrings, necklace, bracelet and watch. Of course a few other things as well. I love ladybugs and everyone knows it!! Even my kitchen is made up of daisies and ladybugs! lol