I Love Payday!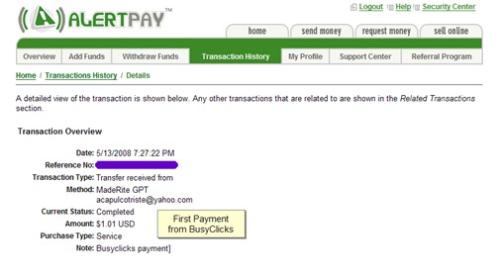 United States
May 13, 2008 7:29pm CST
By now all of you know that we received myLot payments today and I was already very happy about that. But I just got email from my AlertPay account saying I had just received a deposit there too. I reached payout on one of my PTC sites the other day and just received it. I love BusyClicks! I promised I'd show proof of payment when I received it, so I've attached a screenshot of my payment below. I've got a link to BusyClicks and my other favorite sites listed on my blog, the link to which is on my profile. I try to list which have low payouts, lots of hits, proof of payment etc. I love payday!
10 responses

• Pakistan
14 May 08
well thats nice.What can say about it i have not reached yet to my payout day.just waiting for that moment.

• United States
14 May 08
It's still early in the game yet for you. Keep posting and it will come. There's really nothing to it ...


• United States
14 May 08
Yay - nice to get some extra cash, eh? I haven't been here enough to get paid yet, so I didn't know it was payday. Maybe next time I'll be more aware of what's going on. LOL

• United States
14 May 08
Hey there! Well, ummm, I think your reason for being otherwise occupied is a valid one, my friend. But yes, myLot does pay. Ask our other friend - she's doing awesome!


• United States
14 May 08
It does take a little bit of thought, but really not a lot of effort. You'll get there!


• United States
14 May 08
Welcome to myLot! Keep posting and you'll be seeing your myLot payment too! (hint: make them a little longer and you'll be paid better for each post)

• United States
16 May 08
That is great Ldyjarhead! Congrats to you on getting your payments! I need to get more active here on myLot so I can receive my first payment too. Right now, I'm up to a whopping $6.35. But, I know I can earn a lot faster if I just start posting comments more often. Wish me luck! Hope you have a terrific weekend! :) Take care.


•
14 May 08
I haven't quite reached payout this month sadly I'll get more next month though so I should look on the bright side. 10 dollars isn't a lot in pounds (it's about half the amount so really I'd be better off if set my payout to 25 dollars.

• China
18 May 08
Hi Ldyjarhead congratuatlions!thanks for your information to show us,hope we have the payday soon and always,lolz take care

• United States
18 May 08
Thanks for starting this discussion, I am hoping to look at your profile tomorrow to see if there are some new sites I can checkout. Like you said everything adds up and helps. I only have 18 more days of work, until school is out. Luckily I have lined up a very easy babysitting gig for the summer but I sure could use some more moola to get us through!