Are you dog tired,by posting non stop on MYLOT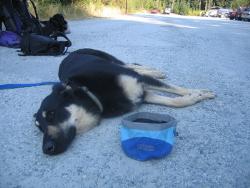 India
November 1, 2006 10:44pm CST
Have you burnt all the energy posting just on MYLOT,are you neglecting your other paid sites.Isn't a balance required? What are you doing for it?
3 responses


• United States
3 Nov 06
Nah I'm not to tired, I can post all day. I listen to music, play poker, and talk on AOL at the same time however.

• Canada
22 Nov 06
Yeah it was fun to post here for awhile..but you pretty much need to LIVE on this site to make any real money..and even that wil take awhile. Here's a legit site that'll pay you to watch online seminars. The people who give the seminars pay YOU. THis program is only 3 weeks old so people are just signing up right now so they're in on the action when it does officially start up..which should be next month. So go to http://bestcashrewards.com/affiliates/t.php?rid=1069 and get in on the action :) It's FREE to join and there's NO investment EVER. Cya there!