It tastes just like one of the recipes I use...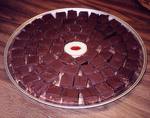 Trinidad And Tobago
May 19, 2008 6:55am CST
So my grandmother came to visit and she decided to bring me some store bought mini brownies that are frosted with butter cream icing. I decided to try one this morning and I was surprised at the taste of the butter cream icing. It tasted exactly like a recipe that I use when I am making my cakes sometimes. So have you ever made something or eaten something that tastes just like something you've made or eaten on the outside before? If so, what was it? and were you surprised?
2 responses

• United States
19 May 08
I have a very limited skill in cooking but my husband makes me anything that is exactly the same to what I have eaten in a restaurant. Like shrimps, cookies,thai noodles. I was very surprised at first, and thanks to this internet that gives us all recipe that we wanted to try! I know someday, i can cook as best as my husband!LOL!

• United States
19 May 08
No, I can't think of anything off the top of my head. How do you make the frosting for your brownies? I don't usually frost mine, but for cake frosting I just use powdered sugar, butter, a bit of milk and vanilla (and chocolate, if that's what I'm doing).