I so do NOT miss Firefox!!

United States
May 21, 2008 6:19pm CST
Firefox is a convenient browser to have, because of the wealth of add-ons available to its users. But that's as far as it goes, right down to the last millimeter. Firefox gets so much unsubstantiated hype that it's sickening. For someone who has worked with computers as long as I have, it's amazing to see what people will say about Firefox in comparison with IE: http://home.comcast.net/~SupportCD/FirefoxMyths.html If some of these people would actually open the task manager once in awhile, or pull out a stopwatch and start clicking, they would find out that IE is in fact the faster of the two, and lighter on system resources. But my machines have plenty of RAM, and are also not bogged down with antimalware (I secure Windows by locking the kernel); all this wasn't enough to disgust me with Firefox. I was practically dependent on a few of its add-ons, particularly Foxmarks. Foxmarks is still the best bookmark synchronizer I know of, and it's nice when your browser can update this list automatically, without you having to login and do it yourself. But Firefox is so not stable! If you don't transition from one page to the next within a matter of seconds from the last, the browser will sit for upwards of a minute with an empty meter. And this is not just a blue moon occasion; this is at least a few times a session! I've seen it in Bugzilla, and posted the problem myself. Mozilla replies with the same suggestions, and they fix nothing! Why should I have to click refresh multiple times just to get this stupid, lazy "fox" (funny how everything about the name "Firefox" suggests fast, not lazy) to budge? For awhile I even wanted to give Mozilla the benefit of the doubt, and assume myLot was the problem. MyLot does have its glitches from time to time, but two problems with this excuse still remain: 1) myLot isn't the only Web site that makes Firefox hang. 2) IE and Opera don't have this problem!!! It was in fact because of Firefox that I learned to copy everything I'd typed into myLot's submission box to the clipboard before clicking "start discussion," "preview response," or "post response." That, and the fact that I have to go back and edit once in awhile (paragraph spaces disappear when you go to edit). I've even tried uninstalling, cleaning up a bit, and reinstalling the browser; upgrading to the version 3 beta (big mistake); and practically everything else. I am convinced this problem is in no way related to corrupt files, or incompatibility with my hardware. Firefox behaves exactly the same, whether you use Windows XP, Vista, or Linux; on an Intel Celeron or an AMD Athlon 64 X2. Firefox is the problem, point-blank. And despite how the fanboys will swear up and down how much more responsive Mozilla is than MS, this problem is at least a year old. The problem started when I started using Firefox, not "somewhere down the line." I'm a repair technician; I do keep track of these things. With the help of SyncIT, all the bookmarks from my Foxmarks account were copied to IE in one shot. Firefox is still there, just in case. But for the first time in over a year, IE is my default browser again! And you know what? I'm not rolling my eyes or smacking my forehead anymore! I made the immigration back yesterday, and everything has been smooth sailing as I knew ahead of time it would be. This discussion I'm typing right now is on one of three tabs, and I have no idea how many times I have gone back to edit. Not once has IE needed to be "revived." Do I have any fellow Firefox refugees out there? Let's hear your horror stories!
4 responses

• Shingle Springs, California
21 May 08
Actually I like Firefox better for one reason. If it aborts and I have multiple tabs open, when I restart it it will restore all of my tabs. IE won't do that, I have to reopen them and go back to all the sites. Honestly I haven't noticed a difference in speed, but I will do a little test when I have time and check it out!

• Shingle Springs, California
21 May 08
PS you don't work for Microsoft do you? Just kidding...

• Shingle Springs, California
11 Dec 08

• Craig, Alaska
12 Jul 08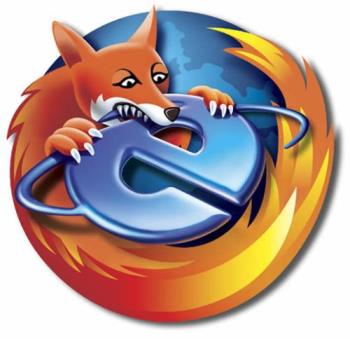 I like Firefox. I am glad I use it now instead of internet explorer. I had that browser your years. I have been using Firefox for 1 year now and will never go back to internet explorer. Internet explorer gave my laptop a virus and I had to get the search around to get the right virus protection software to get rid of that virus. thankfully its gone now. I will never recommend Internet Explorer to anyone. Firefox is great for all the update patches it comes out a lot and tabs and the add-ons are so helpfully. yeah IE may be faster that's cause no add-ons just plain internet experience. Who ever invented Firefox is very intelligent. I love Firefox 3.

• United States
12 Jul 08
I'm sorry about your experience with IE, although you should know that even Firefox can contract infection. They say IE7 is more secure than Firefox; I don't have the resources to test this, so I don't know. What I do know is that everyone targets the most used browser, which puts IE users at a disadvantage. I'm back to using Firefox, but not Firefox 3. It was worse than Firefox 2; when it would get stuck during a pageload, there was no way to revive it. The "fox" has gotten lazy. Unfortunately, the latest version of Opera has the same problem. The only one that doesn't is IE, but I need my bookmark synchronizer, and like to have session restore just in case. IE has neither. BTW, what kind of security software do you have? I hope you know that your browser isn't an antivirus, and malicious scripts can still get through Firefox. It doesn't take much to secure your machine, if you get the right stuff.

• France
19 Jun 08
I got rid of it since I noticed some slowdowns compare with Internet Explorer but I'm still curious about the version 3.0

• United States
19 Jun 08
Well, as if it's any surprise that I eventually went crawling back to Firefox, I too was curious. I tried one of the betas, and it crashed incessantly. It was gone only a few hours after I'd installed it. However, I'm pleased to say that the final release hasn't given me any problems yet (knock on wood). And that's a good thing, because I've never found it possible to substitute all the features I'm used to in another singular browser, especially SiteAdvisor, Foxmarks, and Secure Login. Opera has a decent bookmark synchronizer, and of course they made the original "Secure Login" in the form of the Wand. But I'm not familiar with any Web rating widgets for Opera, and it's a slight inconvenience to have to open a second browser and paste a URL to see what McAfee has to say. There are bookmark synchronizers that work with IE, but they don't install within the browser; they install as independent applications. This isn't a big problem, but I dislike the idea of a bookmark synchronizer running full-time in the system tray. And IE's password manager doesn't work as well as Secure Login or the Wand anyway. Between Firefox 3.0 and OpenDNS, things have sped up a bit. Firefox still has to be "revived" once in awhile, but not for every single pageload, and usually only when I've neglected to empty out my TIFs. It's really not bad!

• India
19 Jun 08
Santuccie, you have put up some valid points there. I will have to keep watch for I haven't had any problem whatsoever. I like the restoring tabs feature of Firefox for I did have my computer shut down for whatever reasons. Otherwise, I hardly remember any feature that would compel me to give an edge to Mozilla.