Diesel went up .12 yesterday from $4.44 to $4.57!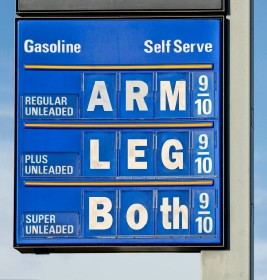 United States
May 23, 2008 8:44am CST
We live in North MS. Yesterday I was in town and the price of diesel was $4.44 around 4 pm and then I went by the same station an hour later and it was $4.57. My husband filled his truck up yesterday and it cost $100!!! That is just unbelievable. I can't believe how much gas we are spending each month. Between gas and groceries we are going in the HOLE! Gas is $3.81. I try to limit my trips to town to once or twice a week to save $$$. How much is gas/diesel where you live? What are you doing to save money on fuel?
4 responses

• United States
23 May 08
My stepdad has a diesel truck, and yesterday he said that here in Los Angeles, he is now paying 5 dollars a gallon. Isn't that awful? Right now I'm paying about 3.99 a gallon for regular unleaded gas... Sickening/

• United States
24 May 08
In a couple rural towns on the PA-NY border diesel has gone over $5 a gallon too!

• United States
24 May 08
I think it's real close to $5 a gallon here. The farm tractors here on the ranch are all diesel, and a number of the crop irrigators run on diesel, so the cost of producing all the corn, wheat, and soybeans is going up with the price of fuel. We stopped to put fuel in the pickup to haul a load of cattle to market and stopped the pump at $130 - and it still wasn't full!

• United States
24 May 08
Consider yourself lucky LOL...your's is still cheap compared to what ours has gone up to. As of this morning the cheapest regular I can find is $3.92, but most are in the $3.95-$3.99 range. Diesel is between $4.84-$4.99 with one place at $4.75 and two others at $5.02. It's crazy! I know what you mean about going in the hole for gas and groceries. My grocery budget jumped $30 for the exact same items in a week's time and even though I get good gas mileage with my car, the stores are far enough away I'm burning close to $10 per trip.