Anyone can tell me is make up important for life?

Pakistan
5 responses


• Pakistan
23 May 08
dont u think makeup fad the innocence of the face?and sometimes we look funny with makeup.

• Australia
26 May 08
Makeup is not important to me and I almost never wear it. I like my face natural. I do not need it for my self-esteem. I like who I am and if other people don't that is their problem not mine. My mother would never show herself without makeup. When she got tired of dying her hair she started wearing a wig so the grey would not show. I thought it was so strange. I do not like makeup and I have learned to like my grey hair.

• United States
23 May 08
In my opinion make up is a vanity issue and it all depends on you. If you are the type of person that really believes in inner beauty or do you see the outer beauty? Yes I know everyone sees the outer first but again if you feel more confident wearing make up then do so and if you feel ok without it then dont, its all personal.

• United States
23 May 08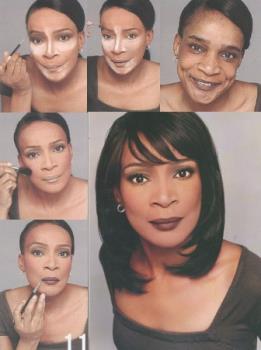 I am tired with make-up and I do make-up only once a while. However, make-up can create miracles...in same cases as in this picture:

• Canada
23 May 08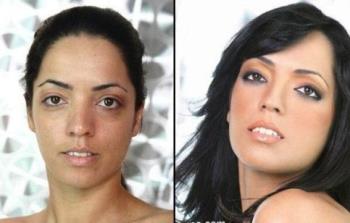 I think it really depends on the person itself. Some people can't leave the house without makeup where others couldn't be bothered with it. It also really depends on the skin itself. Some like to cover up blemishes to make themselves seem to have a flawless face. I wear makeup everyday but that is my perspective that I like to wear makeup and like to define some good features like my eyes and lips. But everyone is different and have their own opinions of why they wear makeup.