Surprise Visit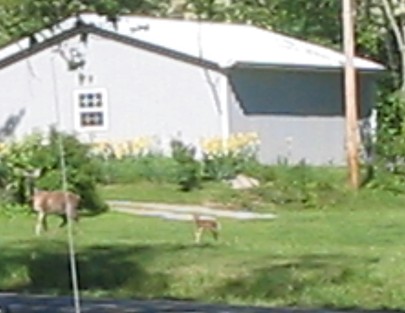 United States
May 24, 2008 9:21am CST
We live in a fairly rural area and there is quite a bit of wildlife around here and we have lots of various birds, squirrels, chipmunks, turtles, and even a mama duck and her babies came waddling through last week. We just moved here in Sept and would watch the does come through at least twice a day and couldn't wait until they starting bringing their babies. Well I guess the little ones have hit the ground because my husband just got a glimpse of this out the window and I grabbed my camera and ran out to get the shot. It was from a good distance away so I apologize for the fuzziness, but you can see Mama Doe on the left and Baby Fawn on the right. As they moved off, the little one was having a hard time walking/running, so I know it hadn't been born very long ago. The does weren't very leery of us this fall, so they know they're in an area that won't hurt them, and the neighbors tell me that they always bring the babies back through in the spring. I will be especially watchful every day now so I can try to get a better picture. I just love God's creatures, and how He shares them with us. Do you have any wildlife that visit you on a regular basis?
7 responses

• United States
24 May 08
I have lived in the country all my life. I live in a very wooded area in southern Missouri. I have always loved this time of year when the animals are starting to come out and bring their babies. My father caught raccoons the other day. Some people he knows were getting ready to knock down a house and was doing the last final run through and found a family of raccoons living in the attic. The babies are TINY! But are VERY cute. LOL If they didnt get mean when they get older I would love to get one to keep around here as a pet. We had one when I was about 12 years old...the dog was worse then any cat or dog you could have. Slept in my bed and had run of the house LOL. He got older and mean so we had to get rid of him because at the time my sister was just a baby. So we gave him to a couple with no kids. We have 3 calves that we bottle feed and my 3 year old LOVES that. ALthough he doesnt really got do it alot because...they are sometimes to aggressive. LOL

• United States
24 May 08
I had horses for a few years a couple of years back, and did breed one of the mares and got a beautiful little stud colt. It was the most precious thing I've ever been through. I'd love to have that again, at least two horses and maybe a couple of goats. The pygmies are so darn cute! And they make wonderful companion animals for horses if you can't keep several of them. Raccoons sure are cute, but yea, I heard can do some serious damage or hurt you.

• Canada
25 May 08
I love all of Mother Nature's critters...BUT I am going to call them all in for a Town Meeting in Cohabiting! I share my property with them, but don't wish to supply all their food! The gorgeous Eagles have been giving my new baby chicks a frightful time, and they have paired up with the racoons! The Bald Eagles are very prolific in my area & have been torturing my 3 new "kids." The poor Mama Goats are run ragged keeping the Eagles away! The racoons are bold enough they come in my "doggy door" ... they are cute at a distance...but not fun when cornered in the house! When I went to work yesterday morning, there were 9 "does" in my front yard...none of them with fawns yet! I love them dearly, but it seems their diet changes annually. I have had a wonderful Iris Garden, not fenced for 29 years. This year (for the first time) they ate them all back to ground level! Drat! I will let you know how the meeting goes....betcha I won't be mayor anymore! Cheers!

• United States
24 May 08
wow! That's wonderful Ldyjarhead, I also love nature and God's creature, in our area, we have squirrels, different types of birds which are very colorful and a rabbit! Last time, when I had to clean the yard, I found a snake and my husband find out he has no teeth, so, we let him go and enjoy life!LOL! It's really wonderful to have them as long as they are harmless!

• United States
24 May 08
Oh, I forgot about the rabbits! We have baby bunnies all over the place now and I'm going to have to be careful with my few vegetables that I have planted alongside the house. Bunnies have been spotted in that area every morning. I've the baby squirrels too, they're finally out of the nests. They are the cutest little things. One of them almost came up to the window the other day and I couldn't grab the camera fast enough. He was all over the place having a good time, even came up on the back porch step.

• United States
24 May 08
me too, they started to eat my veggies!LOL, I have to put some fence to stop them eating it all!

• United States
25 May 08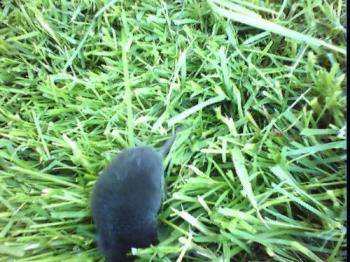 every year brings something new frequenting our yard.. this year we had a flock of wild turkeys coming by eating out of our compost and playing with our dog. best guess there was about 6-7 hens and one BIG tom.. my daughter and i managed to get a few feet from them early one morning, and it was a nice start to the day LOL weve had coyote ramble through.. theres a falcon nesting somewhere nearby and has started hunting my yard and drags whatever hes killed to the top of a broken tree outside my livingroom window, we often have lunch together lol groundhogs, rabbits and squirrels, and a mole the other day that was foraging around my front steps so close to me i reached down and petted his little pudgy butt, he turned and squeaked at me LOL my father in law had a chipmunk that lived in our flowerbed.. and would jump up onto the bricks next to him whenever he was sitting there.. little bugger even sat up and sniffed his elbow one day. ducks that nested in our pool before we had it demolished.. a skunk that my husand thought was a cat when it came rubbing up against his legs one night when we were out with a fire going.. but i think the most fun coinhabitants were the fox. a mama made a den under the deck of the now removed pool.. and had 3 babies. the four of them would run and play in our yard whether we were out there or not, and they were a ball to watch. one day while i was soaking up some sun.. i saw something pass right by my side. thinking it was the wild kitty (who has also adopted us) i reached out to pet her.. and it wasnt the cat, it was the mama fox, a foot away from my outstretched hand.. just sitting in the grass lookin at me. we sat looking at each other for a few minutes, then she moseyed on her way. unfortunately, the only times ive had my camera nearby was the mole the other day. (i have gotten video of the falcon tho, his schedule is nearly like clockwork) i should wear one of those mini digi cameras around my neck LOL

• United States
25 May 08
Oh what a cute little thing (if mole butts can be cute, that is). When I was in MN we had all sorts of critters too. The wild turkey were always around, sometimes 30-40 at a time. And stupid birds, would not get out of the road! I've got pictures here somewhere of some of them. They come right into the pasture with the horses, and it was funny to watch when one of them hit the electric fence when trying to fly over. Of course it's a low voltage so doesn't really hurt anything. These turkeys were so used to use being around that I was able to throw some corn out there for them one day and they kept coming closer as I walked towards them tossing the corn instead of backing away. Oh, I've a picture of a chipmunk here somewhere too, he was sitting on the step right outside my office window. Cute little bugger.

• United States
24 May 08
When we were back in Ohio, we had critters around. Even though we were in the suburbs, there was enough of a wooded area by the river to give them a habitat. We actually had a herd of deer running down the middle of our street one day. We had raccoons, woodchucks and of course, tons of squirrels. Now that we are in the dessert kind of, we don't have much right by our house. The golf course is loaded with huge jackrabbits though. The occasional coyote, mountain lion, bear, and bobcat wander in to the city, but not by us! I just had a hummingbird pausing outside my window. I love watching them.

• United States
24 May 08
Well I'm in Ohio, just outside of Chillicothe and there is plenty of wildlife around here, for sure. I don't know how much longer that will be, with all the new construction and such. I'm just happy to be able to enjoy it for whatever time I'm here.

• United States
24 May 08
I live in the city but in an outlying area where there is a creek, some wooded areas and a golf course close by and the zoo is less than a mile away as the crow flies. One night I came home from having worked an evening shift and just couldn't believe my eyes when my headlights picked up two large deer in my yard as I turned into the driveway. They were just grazing and ambling along like they didn't have a care in the world. There is an alley behind my house and I kept checking on them as they walked down the alley and over to another yard. I eventually called the police to report them (lol...can you believe? reporting deer?) as I was thinking that they may have gotten away from the zoo. After about an hour, I lost track of them. The police did come and run a patrol but I never found out the final disposition of the displaced deer. One day I had about two dozen Canadian geese out in the yard (btw, I have a large yard). The golf course has a small lake in it and the geese are usually down there. Why they chose my yard that day to pillage, I don't know. Geese leave such a mess with all of their doo-doo droppings. Anyway, I couldn't let the dog or the cat out that day as the geese hung around for hours. I've also seen rabbits out there. When I first moved here, I had a daily visit from a rabbit that had obviously escaped from someone's custody. He wasn't a wild one. He was white with black spots and floppy ears. I tried to befriend him one day and one of the neighbors (one of those that watch everything from the back window...nosey people, ya know) opened her back door (at least 300 yards up the hill) and called down to me to leave it alone and that it was a 'fixture' in the neighborhood. He just stopped coming around so I suppose he couldn't survive on his own. I see various birds all of the time as cardinals, red-winged blackbirds, bluebirds, blue jays, hummingbirds in addition to the usual sparrows, chickadees, and the black bossy 'grackles' and sometimes a crow or a raven. I've got a feeder out for the ones who stay around during the winter. That's about the extent of my 'nature preserve'. I wouldn't have thought there would be even that much since I'm in a city.

• United States
24 May 08
If there's any amount of land at all that has access to food, water and shelter, critters will be there. It's sad that we're pushing so many of them out of their homes, though. You sure do have a lot of activity at your place and yes, geese leave a huge mess! I used to think they were small dog droppings. Who would think a BIRD could do that? LOL ... Enjoy your sanctuary. It sounds lovely.

• United States
24 May 08
I live in a rural area, too, and I love it. I have bird feeders, birdbaths and birdhouses in my backyard. I keep the birdfeeders full and then scatter a lot on the ground, too. My feeders are squirrel-proof (so far), so I have to put some on the ground for them and for the birds, like Mourning Doves, who don't use the feeders. This year we have had tons of birds. From tiny little wrens to crows and ravens. We even see geese and seabirds sometimes. We always have lots of rabbits (who have their babies out now), and squirrels. I have a opossum that comes every night to eat, but I have seen her out in the day time, too. We used to have lots of lizards, salamanders, frogs and toads, but I have been seeing less and less of them in recent years. That is really worrying. Snakes are welcome, too, as long as they are not copperheads or cottonmouths! We had a cottonmouth last year that was about 7 feet long. Maybe more! I can't stand those. Rarely I will see red foxes. I know they are in the woods, but you hardly ever see one. It's a treat when you do, though! Loved your picture! I need a better camera with a long lens so that I can get some pictures, too!

• United States
24 May 08
I wish I could have got a picture of the tiny squirrel, and the ducks that came through last week. I could sit and watch this stuff all day! We've got every kind of bird imaginable too. Saw a hummingbird twice already, but very fleetingly. The feeder is out and stocked for them, though!

• United States
20 Aug 08
We use to have racoons visit, before it got built up so much..So all we have now are rabbits that are brave enough to show up with all the dogs around....