How smart is your right foot?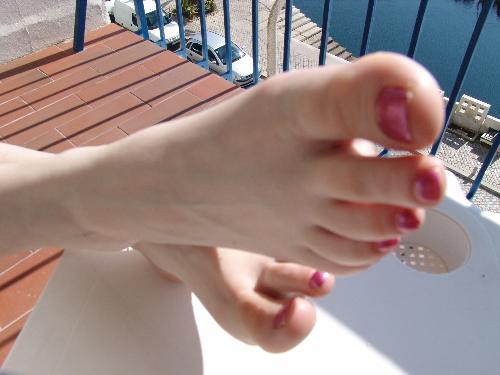 Netherlands
May 24, 2008 3:04pm CST
This is so funny that it will boggle your mind. And you will keep trying at least 50 more times to see if you can outsmart your foot, but you can't. Ok, let's begin...* While sitting at your desk, lift your right foot off the floor and make clockwise circles.* Now, while doing this, draw the number "6" in the air with your righthand.* Your foot will change direction. I told you so. And there's nothing you can do about it...LOL..
5 responses

• United States
24 May 08
Yea, I have done this before. I've sen on other postings about it (through email) that it is claimed people can do this... I don't believe it. I don't even think the smartest man could do this... Thanks for that though... I didn't do it as it just gives me a big headache, because i'll just keep doing it.

• Netherlands
24 May 08
I have received this from a friend and thought of posting it here just for fun... I have done this also many times and it gives me headache too and sometimes annoying... but yeah, it's fun.. thank you for responding!

• United States
24 May 08
I did notice that you said Man! Well maybe that is why I could figure it out for I am woman lol

• Philippines
25 May 08
I've done this before and I tried it again once more. As expected still the same. I could not control the movement of my feet. You have an explanation about this right? hehe, this is really funny, tried it many times thinking I could control after more tries but to no avail...

• Netherlands
25 May 08
hahahaha..i have tried it many times too, Long.. even hubby and my girls were also trying but to no avail..Anna was so annoyed, she asked me many times how to make it perfect but i said no, there's nothing i can do about it...hehehe... even now she's still trying it again and again...LOL.. the one who invented this is really very clever..

• United States
24 May 08
Okay folks are you ready ? this can be done I have done it. The secret is.. your foot is going counter clockwise so your hand must go the same way.. instead of typically writing a six from top to bottom start at the inner circle and go counter clockwise. It is doing and I figured it out lol! go ahead try it. Your brain is not able to tell your arm and foot to do the opposite thing on the same side of your body, But if you do the 6 the way I said both your hand and foot are both going counter clockwise. the end result is I made the six although not how we learned to make it but all the same

• Netherlands
25 May 08
it still did not work for me, grammasnook..hahaha.. i only get confused and was writing an eight instead of six...LOL.. thanks for responding. Have a great Sunday!

• India
24 May 08
What?? I though I could do it ..

.. Well.. I'll keep trying and make sure that I gain control over my body parts..

..[pun not intended].. Was nice to read.. and try out too.. bourne


• Netherlands
25 May 08
hahahahahaha.. keep trying bourne! who knows.. well, thanks for responding!

• United States
26 May 08
I love things like this, can't wait to share with family and friends. I really didn't think it would work. Got any more that you could share???