how long was the longest time that you've been in front of a computer?

Philippines
May 25, 2008 6:56pm CST
and what were you doing in front of your pc screen? were you playing games, surfing the net, chatting, doing your PTC's, etc..? me? i was multi-tasking, i was reading webpages, chatting, clicking ads, listening and dowloading music and posting at mylot. and you know how long was my longest record in front of the pc? it was a solid 12 hours, from 5:45 PM to 5:45 AM! during that time, it included bathroom breaks, dinner and early morning snack. then i slept after i turned my PC off.how about you? how long was your PC marathon? what were you doing during that particular session?
3 responses

• United States
25 May 08
I think it was about 39 hours. It was work, specifically working on a multi-million dollar value proposal. It was grueling. I will never work like that again. I never turned my computer off and had the it hooked up to my stereo speaker so when I received mail it was loud and would wake me from my catnaps. never again.

• United States
26 May 08
I work from home most of the time when working on proposals. So I used my desktop which is "always on". Minimal draw on electric bill. Breaks for food, sort of, walk downstairs grab something quick. Coffee pot in my home office so no leaving for that. Restroom attached to my home office as well, no break for that. Reason for the extra loud speaker? To wake me from naps at my desk to do more reading and editing. Wouldn't be the first proposal that worked that way. I have worked 27 hours straight before. But 39 was the record.

• Philippines
27 May 08
wow you seem very organized and a workaholic based on what you have posted. and you actually wake yourself up from catnaps by attaching the pc the a stereo speaker! if i was in your shoes i would sleep all i want till im ready to get to work again. LOL


• Philippines
27 May 08
more than 12 hours lol i just surf the net and play some online games

• Philippines
28 May 08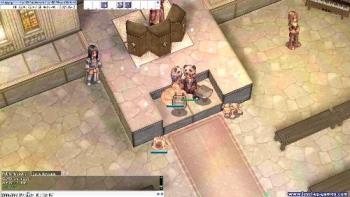 try ragnarok online. it's a mmorpg (massive multiplayer online role playing game) lol try it and i think you'll like it

• Malaysia
26 May 08
12 hours!!! from 7.30 am till 7.30 pm, i been working and even eating in front of my computer