Star Wars or Star Trek

Albania
November 2, 2006 9:34am CST
Which do you think is the better Franchise and why? I think Star Wars cuz of its use of the Force and the inventive distinction between good and evil.
4 responses

• Philippines
2 Nov 06
Had there a Star Wars TV series?

• United States
4 Nov 06
Actually George Lucas has a new Star Wars tv show idea possibly in the works, unlike star trek, star wars' fame continues without faulter.

•
4 Nov 06
Star wars. It has a better storyline, fantastic effects. It has successfully created a large universe which authors can build upon.

• United States
4 Nov 06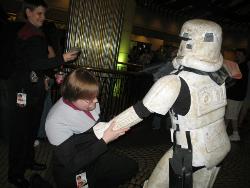 STAR WARS IS BY FAR THE BEST AND KICKS STAR TREKS BUTT.... I HAVE PROOF VIA PHOTO.... from a convention i attended this year dont know the people in the picture but my friend thought it was funny.