Anyone into the rock scene??

November 2, 2006 10:58am CST
I love rock / metal music ... anyone else share my passion?
9 responses

• China
2 Dec 07
I like rock music too,it is exciting chw1118
@yahoo
.cn

• United States
11 Nov 06
Hell yeah, I love rock from all over the world. I love finding new bands that are sweet!

• United States
4 Nov 06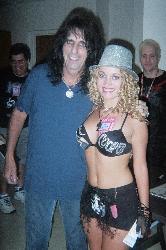 I ADORE Rock.... this can be proven by the pictures of me on myspace. I love KISS (im in their rock the nation dvd and gene gave me his guitar pic), Alice Cooper, whom i met and adore hes the nicest guy youll ever meet, he came from behind the table because HE wanted a picture with me! lol and tons of others.:) What can I say im a concert junkie who refuses not to be noticed, i create all my own outfits and try to be original with each one:) who are your favorite bands?

• Philippines
4 Nov 06
i love rock its rock/punk/reggae though..