How do YOU read??.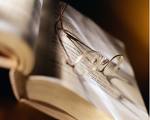 United States
June 4, 2008 12:08am CST
when you sit down to read, were do you find yourself at?. were in your house or even outside does it make you most confterble.. Ive herd some people say in bath tub with candles or snuggled up in a blanket on the couch. some people read even in their bed to fall asleep. so were do you find yourself at when you aetting down to read??. Haha i love to read. it doesnt matter were im sitting,standing,laying down i could be anywere and be comfterble. BUT i just dont see myself reading in a bath tub. i would be to paranoid to drop the book in the water. so i gues severywere eccept their.lol
4 responses

• Australia
4 Jun 08
When I grab a book I start reading straight away I cant wait I dont even think of where I want to be sitting but If I decide I want to sit somewhere in specific I'll start walking to that spot slowly trying to watch where I'm walking and trying to read at the same time lol other than that I find it relaxing reading in bed before going to sleep, but when reading online like I am now I'm always sitting on the lounge

• United States
6 Jun 08
Hahaha,and how many times have you fell or ran into somthing?.lol what is your fav author?...

• Philippines
4 Jun 08
When I'm in my place and feel like reading, I sit down on my bed until I lie down and doze off. Before in school, I usually go to the library and read. Sometimes in the canteen while eating. But I'm not very comfortable reading in public places because of so many people chatting around and I can't focus like that.

• United States
4 Jun 08
Yea, when im home i am usually on the couch. not much other places comfterble to go.. i love to read and ill defiantly try to read whenever. but somtimes like you said i cant focus when theirs alot of chatting around me... or if there is music on. ive lost all concentration. thanks so much for responding!

• India
9 Jun 08
For me it doesn't matter where we sit and read ,It is the matter of concentration with which you read.Anyway for me the best place to read is my home.

• Canada
8 Jun 08
Normally I read in my big armchair that rocks. It is in my livingroom next to the fireplace. I like that spot, because it has the best daytime light from our picture window and the best artificial light from our lamps in the evening as well. I find it too hard to read outside or at the beach, that is my just sitting and vegging out time. Also in the bathtub I would rather just relax and soak.. Other than that, I also do alot of fanfiction reading on the internet...