Do you prefer Internet explorer or Mozilla Firefox?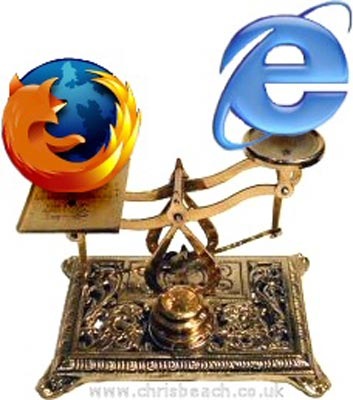 June 4, 2008 8:05am CST
I use Mozilla because is more secure and fast than internet explorer.
7 responses


• United States
4 Jun 08
Firefox hands down. Lots of plugs-in/add-ons, safer, faster, better, and cross-compatible! Can't really beat that unlike IE which crashes, unsafe, bugs, and sometimes not compatible with its own Windows OS. LOL!

• India
4 Jun 08
I prefer using Internet Explorer I am currenty usinn IE6 But i am planning to switch over to the latest version ie IE7 soon I jz like IE for like really no specific reasons..Jz been usin it from the beginning:)

• Brazil
4 Jun 08
Firefox is cool. More faster than IE ;) Anbout security, i dont think have they diference.

• Canada
4 Jun 08
I started using Firefox and found that I like the addons I could have and the more addons I added the less I used Internet Explorer. Now I only use IE to see how my sites look in it so my readers don't get any surprises they don't want.


• Philippines
8 Jun 08
i do prefer firefox because its faster and its secured. And there is less loading time unlike the explorer. ANd i find firefox more user friendly and easier to tweak especially in bookmarking some websites. And even if I opened a lot of tabs it doesn't slow down at all.. so my two thumbs up for mozilla firefox.