who is more fit?

Philippines
June 6, 2008 10:36pm CST
who do think is more fit between you and your partner? i think i am...although i am a little overweight, at least i try to eat a more balanced diet and i move a lot, which makes me expend what i eat. and i have more control in my diet than him. he doesn't want to exercise and he eats a lot, especially fatty foods. but he is not overweight. i just think that he is not that fit because of what he eats and his habits. how about you? what do you say to this? have a nice weekend! God bless you!
5 responses

• Australia
8 Jun 08
i think my hubby is fitter than me even though he is fatter than me and he is overweight... but he is fit for some reason and seldom get sick... unlike me who get sick and tired more often than him... i think it got to do with the stamina... he has a better stamina than me... anyway, take care and have a nice day...

• United States
7 Jun 08
We are both physically fit although this time, I have less activity since I have no work anymore! We are both a vegetable eater and we know when to push our red button when we eat too much already..LOL, But, good for him since his work includes walking everyday and I have no opportunity to walk a lot! I know I have around the village, but, I also don't enjoy doing it alone!LOL!


• United States
7 Jun 08
Definitely me! I don't do everything right but I eat far less sugar and salt, more water and milk, my diet is more balanced than his and I think I do more cardio friendly activities than him. He does have a long walk within his building but I don't imagine he speed walks it! I run around all day chasing after kids. He doesn't do any extra exercise, I try to squeeze in a brisk walk or at least some at home pilates a few times a week. After 6 kids I'm only 10 pounds over what I weighed in high school and am at my ideal weight for my height. He, at last check, is closing on 60 pounds over his high school weight and I would guess around 30 over his ideal weight...he is smallish boned and was short in high school, didn't reach his full height until between 18 and 19.

• United States
7 Jun 08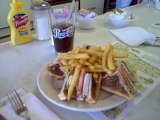 My husband eats more junk food than I do now. We both do get exercise regularly. He does a lot of stair climbing and I lift weights. The one meal I should be avoiding has french fries, but am eating it less often.