I have a Blogspot question/problem and I'd like to get your opinion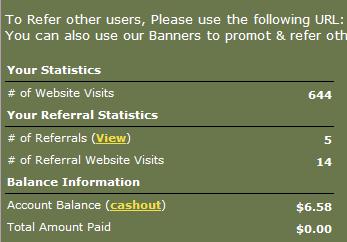 United States
June 8, 2008 3:50pm CST
When I told you about FoxCash recently, you might remember I told you how surprised I was at the success of my one blog post about it and how it helped me get 8 referrals in under two weeks. Well, it's happened again! This time it was for DaddyBux, and again, it was only a short writeup with the important details about the site and how to make money with them. I posted this one Wednesday, June 4th and at that time I had 0 referrals and a total of $6.12 in personal earnings. After doing my clicks there today, I went to my stats and to my amazement, I have 5 new referrals and I'm up to $6.58. DaddyBux doesn't show you when your referral joined like foxbux did, but 4 out of 5 of them have already clicked a few times and it's added an extra 14 cents to my account in the last few days, today being the 8th. Hopefully they'll continue to be active and that balance will keep growing too.
Now this is where I need your help. I need some opinions on the stats and/or payout proof image(s) I'm adding to my blog.
Currently, (unless a site has a problem I need to document it in their forum) I only save the most up to date screenshots, overwriting any of the older ones by naming the new image with the same name as the old one. I do this not only to save space but also to allow my updated images to automatically update on the pages I've posted them to without having to change the link that points to it every time. If you're collecting as much data as I am, this can save alot of time, since you don't have to go to each site you posted your link(s) at, in order to change your images. I also know that alot of people won't even click on your link if your image shows that dreaded "red X". More often than not, this indicates something is wrong with your link and it gets ignored. No, I
do not
need you to visit my blog in order to answer the question. I'm attaching my "right now" stats so you can see the difference between the image and the stats I reported from the 4th. (4 days ago)
What I DO need from you is an opinion.
As a MyLotter, who is interested in finding ways to "make extra money" and who is also familiar with blogs on this subject matter, "DO YOU prefer to see the "up to date" stats right away or do you prefer to see the results "as it happened" in multiple posts?" Your opinion will be helpful as I decide if it would be best to continue just overwriting the old data with the latest information or if I should show the big changes like this with an update and a new pic with a different image (jpg) name. Looking forward to hearing what you have to say about it.

1 response

• United States
8 Jun 08
I like to read about what people are doing on the sites as well as current promos. I like seeing current payment proof earnings and sometimes the current referrals.