Jogging VS Swimming... Which one can give better result for losing weight?

Malaysia
10 responses

• Canada
10 Jun 08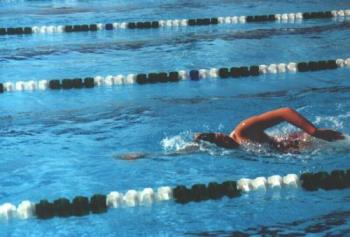 I think it really depends on how long you are going to be doing it for. Jogging is a great way to lose weight if you keep it up but I think swimming is even better for you. You don't hold gravity in the water and is much easier to move around if you got stiff bones and lots of aches and pains. My surgeon suggested to me to go swimming of my back issue. I need to drop some weight and he said this would be the best way for me due to my back injury.

• Malaysia
10 Jun 08
oooooo.. what happened to your back? how is the result of the swimming therapy? Does it help you a lot? I do not have back problem but every time after swimming i felt so fresh.. I hope to lose my weight but my shoulder muscle getting bigger hahaha

• Canada
10 Jun 08
I was in a car accident. I rolled my truck 4 times in the ditch doing highway speed. Dang lucky to be alive thats for sure. With the back injury we found out that I have Spondylolthesis which is slippage of the spine. So when I had the accident and being thrown around like a rag doll my spine slipped. In order to correct this would be a spinal fusion which they would pull my spine out and fuse the ends together. I was born with this but the accident brought it out. I do find swimming helps as I am able to twist and bend in ways I can't if I were doing them normally. I have lost 5 pounds since starting the swimming already and toning up muscles that I have lost over the last 2 years.

• United States
10 Jun 08
Depending on the person and body mass. Jogging can be a great excercise if you are in overall good health. But swimming can be a wonderful alternative if you are seriously overweight, or suffer from knee and back injuries. Which could be futher injuried if one was to go jogging. But no matter the excercise if your getting up and getting out your on the right track.

• United States
11 Jun 08
I agree , I think you have to be in better shape to job . I have extra weight and swimming is much better , and a brisk walk . well for now anyways


• Canada
10 Jun 08
I think overall for your body swimming is better, because it uses more muscle, and on top of that, when you jog, it always impact your knees and in the long run and hurt you, while swimming is a fluid movement, so no risk of injuries there.

• Malaysia
10 Jun 08
nice comment pal... are you a good swimmer? have you ose weight when you regularly swim? I love swimming.. but i also love jogging.. hmmm anyway I agree with you about less impact when we swim compare to jog

• Singapore
14 Jun 08
Jogging will give u faster result in losing weight, but for overall appearance, swimming will be better.. Even though bopth are exercises, but they target different areas of our muscles and it's performance.. ANd if it's just losing weight, jogging is good because it makes us sweat.. As for swimming, it's more to toning down of the body..

•
13 Jun 08
I'm a PE teacher. U want to know the facts? The answer is up to u.. a swimmer has to increase the intensity of distance or speed day by day to burn more calories. if u constantly swim at the same rate or distance, calories no. that burn then decreasing.. Actually jogs work alot. u has to wear windbreaker.. wbreaker traps sweat and heat and works like mini sauna.. your tummy burns like HELL and in one week u able to burn 4 pounds..


• United States
11 Jun 08
Hello, I like to swim and it seems to help with the weight . It is much easier to do if you have extra weight, well it is for me . I like to swim laps, lift weights, and do some dancing in my pool . I would say both help , so either or


• United States
11 Jun 08
i've been jogging a lot lately and i feel the muscles hurtin' a lot more than when i used to swim everyday.. so i'm guessing jogging is much better?? but if you have weak knees, i'd say swimming is a lot better.

• United States
11 Jun 08
I would think swimming would give a better result. A lot more muscles are used and it takes a lot more energy since you aren't just using your legs. When i get done swimming I am a lot more exhausted than when I jog. Swimming will also help your muscles become more defined since it uses more muscles.