How many language do you know..??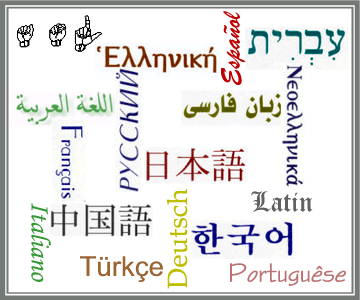 India
June 11, 2008 12:30pm CST
I know the following Read - Tamil, English and Hindi Write - Tamil, English and Hindi Speak - Tamil and English These three are the popularly used at our country.. even though we have more other regional languages, on those places, I can manage with the English and Hindi.. Even in Singapore & US people, I can manage them with my English.. What about you..?? How many language you can fluent..?? Post your comments.
6 responses

• Singapore
11 Jun 08
Are you living in Singapore? If you are, we should meet up, would love to meet someone I meet on Mylot in the flesh. Anyway, to answer your question, I speak English reasonably well, I can make myself understood in German, I can flatter in Spanish and I can avoid being abused in Chinese restaurants when I speak Mandarin and Cantonese. I can also use the various calls for God in Arabic. Basically I was educated in the UK so my language skills are lousy. But since I've moved back to Singapore I seem to have found the ability to con people into thinking I speak their language. It's worked particularly well with Italians, who tell me I speak with a lovely Italian accent - when the truth is I can barely thank the waiter in Italian. Strange.

• India
11 Jun 08
Thanks for your comment.. I am from India, we have our office at Singapore.

• Singapore
11 Jun 08
DOn't tell me that you are in the IT Industry? Which company do you work for? I work for two Indian IT companies and they're allot of fun.

• India
12 Jun 08
I am not in IT Industry. I am working as at the Engineering Industry.. we have another unit in FMCG Products.

• China
11 Jun 08
You are great.I only know two language and one of them is Englilsh and the other is my mother language. I think the more the better so I want to learn some others in the future and I think I can.

• India
11 Jun 08
Mother tongue and the English is more than enough.. You can find more people those who know more than 6 ot 7 languages, even they knows the international languages.. i am nothing.. Thanks for your response.