Dedications to everyone!! Enjoy the angelic voice.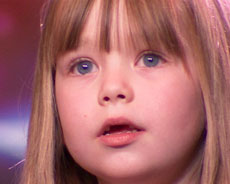 Singapore
June 14, 2008 8:13am CST
http://www.youtube.com/watch?v=Gm5L5U92_54&feature=related Maybe some of you know her. Well..I just came across Connie Talbot, the 6 year old who was one of the contestant of Britan's got talent last year. I was touched by her Somewhere Over The Rainbow, she's just an ANGEL! According to her, her grandmother and she used to watch The Wizard of Oz and love singing the song. After her grandmother passed away, her mom is very upset and ill. So she started singing this song to her mom hoping she will feel better, in fact her mom was fine after that. She's such a sweetheart, aren't she? Incredibly sensible for her age. Search some of the other videos of hers, I'm so in love with her! I hereby dedicate her songs to everyone, hope you all will be touched by this little angel=D PS She had sang a cover of "You Raise Me Up".. listen some of her songs at www.myspace.com/connietalbotofficialmusic
2 responses

• Denmark
18 Jul 08
hehe this is a angel's voice http://www.youtube.com/watch?v=x17cFmFGKRk&feature=related love the part 5 min in dont mean to spoil your's actualy i coudnt even watch it was removed or something just contributing to the theme of the discussion

• United States
14 Jun 08
Hi gwenns, thank you for the website. Yes, I have heard this beautiful child sing. She has an angelic voice and is a wonderful child. She has gone through things a child should not have to. But she has a beautiful voice and can help people in her own way.