Our new deck furniture!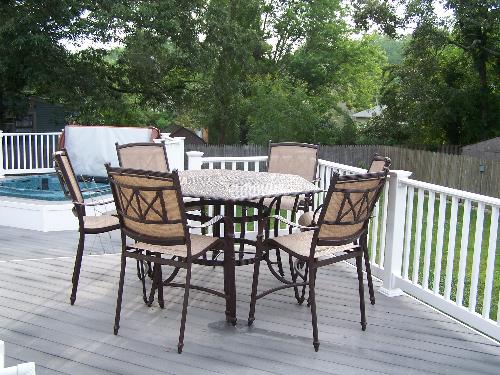 United States
June 15, 2008 7:17am CST
Every year we have a HUGE Labor Day Party with all our family and quite a few friends and neighbors. Last year our deck was finished and that was great. We've been looking for some furniture to put on it and have not had much luck. The year before when they were working on the deck I found something that I loved, but we didn't have a place to keep it and I had to pass on it. Since I saw it at Sam's Club, I knew I'd probably never see it again. We'll we've been looking for the last couple years and found something by accident last night. We also need to get one of those pop-up tent-like things to give us some shade on the deck, so we went to Sam's club to get one. Well, they didn't have any, but I did fall in love with another patio set. We don't really have the money for it, but we can fake it and shuffle some other bills around a bit. I really liked it, and so did my husband, and we knew that if we didn't get it they wouldn't have it when we had the money for it. So, we bought it! We put it together in the rain last night, and we'll most likely eat dinner on it tonight!!!
No responses