What a cheeky little budgie!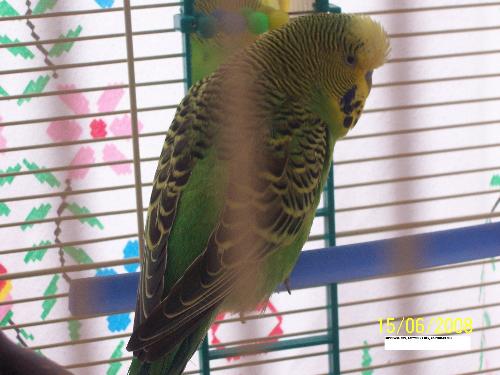 June 15, 2008 2:56pm CST
A few years ago, my hubby had taken my son then about 3 years old to a pet shop. While in there my son expressed an interest in a budgie, it was only a few months old then and so my hubby being a bit of a soft touch, bought this budgie for him. Of course, it was me that ended up looking after him, but he was such an adorable little thing and he had such a strong personality and I knew that if I spent time with him then I could teach him to talk. However, I had more children and I just ran out of time to spend with the poor little budgie, who was named George, and he spent many days alone. I felt so sorry for him, he just wanted to be played with. Talking to my Mum one day I was telling her how sorry I felt for him and that it was a shame that I could not spend more time with him. A few hours after the phone call, my Mum phoned me back and asked if I wanted her and Dad to take him. To cut a long story short, as with me my stories are always long! Mum and Dad took George and they have now had him for about 3 years. So we went over to see my Mum and Dad today and I was surprised and delighted to hear George talking! Yes, my Dad spending time with him has taught him to talk, but as is usually the case with budgies, he can be very rude! He certainly has an awful lot to say for himself now! Has anyone else had or got a clever bird that can talk or do tricks? What can it do and say? What sort of bird is it and how long did it take to teach it? Cannot wait to hear your stories!
7 responses

• United States
15 Jun 08
wow! That is great gemini, I wonder how your son reacted when George was taken by your parents...LOL! My co-worker have a parrot and every time we will visit there, she will greet us saying "hello pretty"...Very funny..she trained her every morning when she was still a baby and after a month the parrot was able to imitate any word and sometimes when my co-worker will call her kids, the parrot will imitate her...

•
15 Jun 08
He was not bothered, he was only 3 when my hubby bought him and I think it was just a 9 day wonder for the little one. He is happy that George is at my Mums xx

• United States
15 Jun 08
I see...That's good! Good thing he never ask you to borrow it for the mean time..LOL!

• United States
15 Jun 08
Oh my! I am so happy that your story had a happy ending. I love animal storeis of all kinds. I'm a cat mommy and probably couldn't get away with having a bird. The cats would jump up at the bird's cage and harrass her night and day. Cat and bird not friends! LOL! But I'm happy that your little guy found a new home and is much loved. Be well! Thanks for sharing your story.

• United States
18 Jun 08
Thank you so much for best response! You've made my heart very happy with your beautiful stories! Be well.

• Brazil
15 Jun 08
Hi gemini, nice to know about George. I have two parrots and they talk alot lol. One of them named Socrates is very intelligent and learn fast to talk since his 5 months and the other learn more fast with socrates lol. The other is Boris. I love them. They are so funnies!

•
19 Jun 08
My partners father in law had a brill budgie that copied him all the time,and when it talked you thought it was him it was so lifelike.But we were away one year and called into a pub for a drink and there was one of those mynah birds well pmsl it was swearing like a trooper and not any old swearing but real hard words,well all the parents were grabbibg there kids away from out of the sight of that bird,but the adults were just wettin themselves.

•
19 Jun 08

Those birds are terrible for swearing they are a really easy bird to teach too.

• United States
16 Jun 08
My parents had a Maccaw (sp) named Pedro. They ended up giving him to some old family friends who wanted a bird and could take the proper time to properly care for him. My parents travel too much. Anyway, Pedro is very smart. And, he speaks! Boy does he ever. He knows my Mom's and Dad's names. And, he knows a less polite phrase! LOL! My parents kept Pedro downstairs in the basement (it is fully furnished and nice down there but, still not the best place for a bird which was part of the reason they chose to let their friends adopt him). My dad has a work room where he does crafts. He had a cage in there for Pedro with a place for him to sit on top of the cage while my dad worked down there. Because there were a lot of places that my dad wouldn't want Pedro to get into in the work room, Dad preferred Pedro to stay on top of his cage. But, Pedro would start to get down so he could explore and Dad started telling Pedro to "get the F back up there". So, as smart as Pedro is, he picked that particular sentence up and, well...you can imagine! LOL! So, it wasn't uncommon to hear Pedro telling himself to "get the F back up there". LOL! He would also say my mom's name and my dad's name. LOL! He had some other things he would say but, those were his 3 favorites! LOL!

•
16 Jun 08
Now see I have always wanted a maccaw, I think that they are a very clever and intelligent, beautiful bird. But I would want to have one when I had time to care for it. I would have loved to have met pedro!

• Australia
15 Jun 08
Hi gemini_rose, My parents have had birds for years - mainly a stroppy cockatoo, and a budgie named Joey who is no longer with them. Joey was the one that talked - he and Dad used to argue over what to have for breakfast, and Joey would sit there on the edge of Dad's cereal bowl at breakfast time. There's little doubt in my mind that pet birds like parrots and cockatoos are quite able to develop a working vocabulary and engage in sensible conversations. Joey had no hesitation telling everyone what he wanted, when he wanted it. They actually have an intellect comparable to a 3 - 4 year old child, and can easily master equivalent language skills. There's other animals that are arguably as smart as parrots and cockatoos - crows, magpies, pigs, dolphins, orangutans, chimpanzees and gorillas, for example - but the special thing about parrots and cockatoos (and some others) is that they are quite able to articulate their thoughts in spoken language. So it's nice to hear that little George has been taken in and looked after by your parents. No doubt they'll have lively conversations at the breakfast table each morning too.

•
15 Jun 08
Yes he learns more each day and I am glad that they took him. With four kids it was just becoming more and more impossible to spend quality time with him and it was not fair on him. He is an only child at my Mum and Dads and so is thoroughly spoilt which is great. He still remembers us though and was really pleased to see us all which is nice.