Do you hit your kids?

United States
June 17, 2008 11:57am CST
Do you hit your kids to show them that something is wrong or that you just get overly mad and take it out on them?
8 responses

• India
17 Jun 08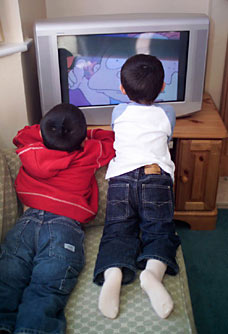 My son is too young now.. may be after he grow for the next two years or so, i can able to tell, based on his activities, i may or maynot hit him.. Because my brother had son aged around 8. studying in 3rd Standard, he is very knotty.. he never hear anything if any one said.. he run like anything.. its really very nice to watch the same in a movie..but in the real life, its really a irritating, some time my brother used to hit some very much.. Some time my aunt also hit him for some reasons.. the problem is he will not hear anything, he do everything as his own.. he used to break the Television, Computer and Two new Sofaset, the glasses on the Hall shelf etc.. he used to put the stick on the Table Fan.. always he used to watch the kids channel, never read the school books like that he will do all the knotty things..

• United States
17 Jun 08
Wooow! omg! I was something like him when I was litte but never did something the Television!(that was my life) but yea, I did just about all them thing he is doin but now that I'm 16 I say that i grew up out of that playn mode all the time and gettin out of line with things now and I think its becauce I did it so much when i was younger that i just got tired of it now but im still a little destructive at time my sister tells me.lol but he'll grow out of it soon.

• United States
17 Jun 08
Spanking should be a last resort. My daughter usually gets a time out. Time standing in the corner. Sometimes further action is needed. She gets removal of a toy or game from her room, which she has to earn back with good behavior.

• United States
17 Jun 08
If i ever hit my kid. I will hate myself for the rest of my year. You shouldnt hit ur kids. u can ground them from stuff like TV and games but dont kid ur kids. I think that should bad relationship with kids and children

• United States
17 Jun 08
yea i feel what your sayn but sometimes i belive that just taken stuff like that away really doesn't get them to know that what they did was wrong, and sooner or later they will lear from what ever they have done but I would never abuse my child if I had one.

• United States
18 Jun 08
No i think it is wrong to hit your kids period ... Its like someone coming up to you when they are mad and just hitting you because they are mad .... Kids need to learn that there is better ways to control your anger in morep positive ways or they will grow up never knowing how to properly relaease their anger !

• United States
18 Jun 08
A firm hand on the buttocks for bad behavior never hurt any of the kids in our family. My parents and grandparents spanked our butts for doing thing that we had been taught were wrong. However regardless of the type of discipline you use, if it does not change the behavior, then it is not working. It seems that when spanking was more prevalent in society, children commited less crime and were more respectful. As society turned toward "TIME OUT" children seemed to be less respectful and more likely to do things we simply would not have dreamed of doing when we were coming up. Just an opinion. As for me I will talk to my children first explain to them thay are not to do something because it is rude, dangerous, whatever. If they repeat the behavior they are very likely going to get a spanking. If time out works for your kids do it. I've never found it to be effective with my children.

• Philippines
18 Jun 08
I hit my kid with my hand when he hits me in the face or kicks other playmates. I want to tell him that what he's doing is wrong. i really dont want to hit him but even i keep on saying that what he's doing is wrong, he still continues. So i tried hitting him in his hand or feet and he listens. But sometimes its really hard, I don't want to see him crying because of me. I don't know what to do but I believe I have to discipline him.. I would just like to say that I don't hit him often. Only when really needed.

• China
18 Jun 08
I am not a parent yet but I am very happy that my parents never hit me. I am a hard headed kid when I was young but they just talk to me. If I will become a parent I will not hit my children. It is really not a good habit to hit anybody when you become mad. Eventhough the sin or mistake is really bad. Take care =)