What is one of the best or worst pick up lines someone has tried with you?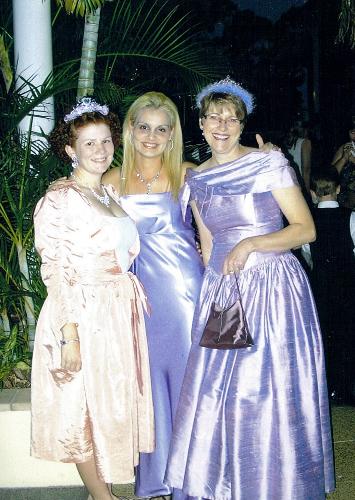 Australia
June 18, 2008 7:49am CST
One of the best pick up lines someone has said to me is actually from my partner. When we first met at the Starlight Tavern, I was all dressed up in this elegant dress as I just came from the Glitz and Glamour Ball and I decided to go to the pub afterwards. It was in a small country town of around 4000 people, I would never dream of dressing up like that to go to a pub however I was already out, so I thought I would just go to the pub. Anyway I went up to the bar and he approached ma said, "that dress should be illegal ( he thought I looked really good in that dress). It made me laugh and then we started talking and we have been happily together ever since. (see picture below, with me wearing the illegal dress, lol) So what is your worst or best pick up line that someone has tried on you?
9 responses

•
18 Jun 08
Hi Kiran-can't remember really the worst one I've had but the thing that does happen now is when someone starts up a conversation withme and half way through I realise he is trying to pick me up thats when I run!!

your friend littleowl

• Australia
18 Jun 08
What makes you realise half way through, lol? I would be running too, if I didn't like them.

• Australia
19 Jun 08
Good to hear you are a faithful partner, your partner is very lucky to have someone so loyal and faithful. I have learnt from experience also that when a guy offers to buy you a drink they often have an alterior motive. Not very often do guys just want to chat, it would be nice if you could chat to a guy without them coming on to you. Thanks for sharing your story littleowl.

• Bahamas
18 Jun 08
Here are some really stupid pick up lines guys have tried with me: 1.Can I get a burger to go with that shake? 2.My pen is red,my ink is blue,this love I have is really for you. 3.Pain in my heart,tears on my pillow and you on my mind. 4.I would appreciate it if you could save me because Im really falling over you. 5.I know God must have really liked me to let an angel like you leave Heaven.

• United States
18 Jun 08
To go with your God one, I have actually gotten: let me see your tag...I was right: made in heaven.

• Australia
18 Jun 08
Yeah number 5 has been tried on me too, but it worked for me only because it was my boyfriend that said it, lol. I like pick up line number 4, that is pretty cool. Thanks for your great response, good to have a great laugh.

• Philippines
18 Jun 08
"are you a pokemon? because i choose you!" hahahahaha. i haven't really had someone say this to me. but, i've read this somewhere and it's really funny.hahaha.. pokemon amp.

• Australia
18 Jun 08

That is funny I have not heard of that one before, where did you read that one?

• United States
18 Jun 08
wow! That was a cute story kiran....I remember I was selling one of the famous diet shakes before and was trying to convince people/friends I've meet. One guy is just teasing and laughing at me, telling me like I was like a car dealer and telling me to stop doing it since I will not make anything out of it, I was challenge and at the same time, teasing him too that he just criticize my products since he is frustrated and can't afford it..We end up liking withe each other with all those tease and light insulting and became lovers and now he is my husband..LOL!

• Australia
18 Jun 08

That is funny, do you both now drink diet shakes together on your anniversaries? Lucky you found that job, now you have your husband, great story.

• United States
18 Jun 08
I agree and after that, I was forced to stop selling since I need to focus on my regular work..LOL!


• Australia
19 Jun 08
THanks, well it is my lucky dress now. Only wore it once so far, need to go out more to fancy places or more balls. I can't believe I bought this dress in a small country town, Longreach. They only had like two clothing stores in the whole town. But in this one shop they did have some really nice dresses. I also have this beautiful pink halterneck dress that I bought for the races there.


• Australia
19 Jun 08
That is funny, I have not heard of that one. I feel embarassed now lol as I fell for the pick up line tried on me, but it wouldn't have worked if he did not seem like a decent guy. We connected straight away and we now have a 3 month old baby.

• Delhi, India
21 Jun 08
Nice to know that one interesting pick line brought you closer to your partner. I could not find any picture of yours, with so called illegal dress...LOL! Did you forget to upload? I suppose you are very kind hearted and caring and these kind of positive traits of yours brought you closer to your partner.

• Australia
28 Jun 08
Hello, my picuture is uploaded below my discussion. That is me in the middle with the purple dress. I think he meant the dress should be illegal as he thought I looked too sexy in it, lol. Thanks you for your sweet words, you always know how to compliment yourself. I am sure you gave you wife an interesting pick up line when you met her that swept her off her feet.

• Delhi, India
29 Jun 08
I have again checked up, your picture, you are looking absolutely stunning and gorgeous!!!!! I will have to check with my wife, which lines stumped her......LOL!

• Romania
19 Jun 08
ok my best line is: "Hey, sorry for distrubting you, do you have a picture with you?! So I can show santa what I want for Chrismas" hehe.. not.. joking! :D Never tried a line, never got the balls for it,but I was more than onces in strange situations! :)

• Australia
19 Jun 08
So I take it you are a guy, lol. Confusing with female avatar. I do like that pick up line though, I have not heard of that before. You never know this pick up line may work.

• Australia
19 Jun 08
the best pick up lines i had ever heard actually comes from my hubby when i am sick in the hospital... he is so worried about me and he says that he doesn't want to lose me, he feels lonely when he sleeps alone at night and he asks me to recover quickly so that i can accompany him again... for me, that is really sweet... take care and have a nice day...

• Australia
19 Jun 08
That is reall sweet, it is nice that your husband misses you and feels lost sleeping without youl.