shaq Attack!!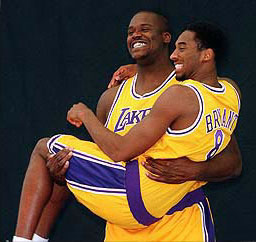 Philippines
June 26, 2008 8:51pm CST
What can you say about Shaq's dirty talk to Kobe. He even have a rap dissing Kobe Bryant. I watched TMZ last night and he even uttered in one of his ambush interviews that Kobe couldn't do without him just because Lakers didn't bagged the NBA title this year.
1 response

• United States
27 Jun 08
Freedom of speech.....He lost his sheriff status also, which I think is WRONG! I love Shaq and he's a great role model! Yes, he spit out some words he shouldn't have used but we live in the USA and are protected by free speech. Oh yeah, I also hate Kobe...and the lakers!

• Philippines
7 Jul 08
well you're right .maybe he's just practicing that freedom..thanks for the response!!