A little bit about my little dog....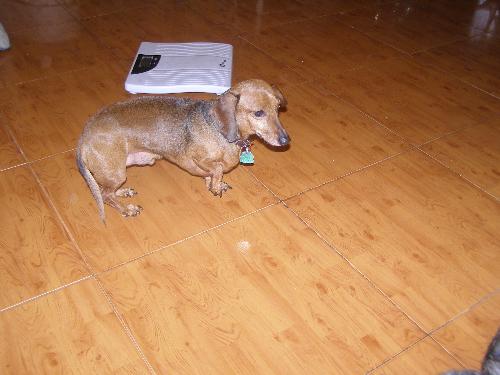 United States
June 27, 2008 9:00am CST
Ok so i am always bragging about my big dog my Akita. Well it occured to me that I have not given the same attention to my little dog my miniature dacshound Corkie. He is 6 years young, he loves cats but they dispise him which makes him very sad. He loves to lay all day with someone. He will put you to sleep cause he is like a little furnace. He loves to play the "i'm gonna get you" game. He is very very sweet and lovable. He is a grat guy. he only weighs 10 pounds so the difference between him and Shilo (the akita) is quite dramatic. You can see a photo of them together with my other photos but here is a pic of him alone.
1 response

• Canada
27 Jun 08
Well said!!! If we have more than one pet, we need to brag about them equally. ;-) My sister loves Dacshunds. I don't think hers are minature (how small is a minature? The non-miniature ones are small eough!), but she has a few of the "big" ones. Too bad cas don't ike your little guy. I don't understand what's not to love.