A Good Day Today!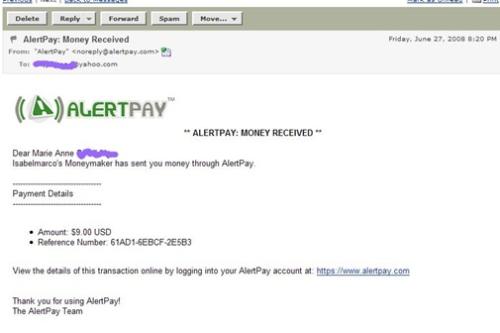 United States
June 27, 2008 7:34pm CST
Not only did I receive an unexpected payment for a baby blanket I sold on etsy, but I just received notification from AlertPay that IsabelMarco payment just came in. I've already earned enough for a second payout and now I can submit it since this one has been paid. Yippee! If you want to get paid too, check out my profile here for a link to my blog. I have a list of several good PTC sites with more proofs of payment there.
7 responses


• United States
28 Jun 08
good for you, congrats. yu know we all need a good day anytime but when u think about every day u wake is a good day. keep up the good work!!

• United States
28 Jun 08
Oh, amen to that. I am grateful for every new day that the good Lord allows me. This money is much needed, though, and I was having a lousy day until those two things happened, so it brightened my mood considerably.

• United States
28 Jun 08
Oh yes I was having a lousy day Friday and when I saw I made some money, it made my bad day turn good that fast! :)

• Canada
29 Jun 08
good for you hon, though I never heard of either places that you mentioned.


• Canada
30 Jun 08
how much to the crafts run for what is the biggest amount you have seen?

• United States
28 Jun 08
Congrats! I got paid by Demand Studios today! Easy money. I do GPT sites also but not as much as I used to. I really need to get back into them again but with all of the writing I have been doing I don't have the time. :)

• United States
28 Jun 08
Is Demand Studios one of those you write for? I forgot to mention that I got paid for two articles at Associate Content, and two others are already published. I guess I need to start a discussion about that one too!

• United States
28 Jun 08
Yes Demand is a writers site. I am going to PM you with the details because you would benefit from working for them. As for Associated Content, I'm not making much from them these days. I am trying to get better with the keyword density and Michy is trying to help me so I'm still learning. Once I get it right I can make more money with them. :)

• United States
28 Jun 08
Paydays are always nice. I have one coming in myself, from a GPT site. Congrats! Enjoy the cash, you earned it!

• United States
28 Jun 08
The thing is, with most of them taking so long to pay out, you never know when you're going to get it, making it a nice surprise when it shows up!

• United States
28 Jun 08
Wow... that is great news! I checked out your blog- very nice. -spy

• United States
28 Jun 08
Thanks. I probably should update some of my favorites from the earlier entries, but the payment proofs and such are definitely updated.

• Italy
28 Jun 08
Congratz!

It's great reading of the users being paid from that site and it's even greater when I think I started way back in February when there were less than 500 members - no-one had heard of it then

I guess you're like me too in that even though it's not a huge amount it gives you a kick! Don't forget to post your proof on the forum there in order to receive your next one - another great thing that when one arrives your're ready to cashout again. GREAT!


• United States
28 Jun 08
Headed to the forum now, thanks for the reminder! I'm not too crazy about the new format, but I'll take the money anyway!