THESE are orbs!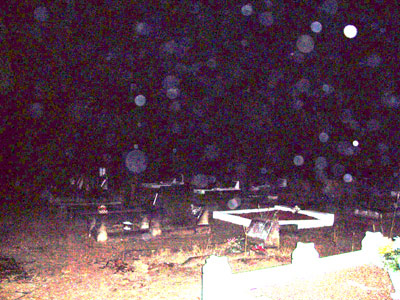 Australia
June 29, 2008 11:52pm CST
A few weeks ago I thought I would see if I could capture spirit on camera and I was lucky enough to be able to get them to show themselves. The picture was taken at a local cemetary by me after asking spirit to show themselves - the orbs are just beautiful. What do you think?

The bright orb in the top corner could actually be seen by the naked eye - it was a wonderful experience!

I would like to know if you would like to see any more of my paranormal photos?
3 responses

• United States
1 Jul 08
Though I have seen an 'orb-like object' (more than one) with my naked eye, I would have to say what you have here is probably dust. I have been investigating the paranormal for years now, and have countless pictures just like this one. It's all well and fine to throw a picture out there and say 'I got orbs!' But you should also back it up with weather conditions - humidity, wind, etc. That said, I'd be interested to see more of what you have. Good luck out there!


• United States
30 Jun 08
I know I may sound rude,and I may be wrong, but it looks like most of the "orbs" are from a dirty camera lens. I have seen orbs and they did not ever seem so defined. Now the one bright one seems more real.

• Australia
30 Jun 08
Thanks for your comment. I guess with me only being able to post one picture here you can't see that the orbs are not dust. It would be a waste of my time to go take pictures with a dusty camera lense you would think! I may post some more - I do have quite a few pictures on my website.

• United States
2 Jul 08

That is pretty cool. I have not been so lucky in seeing anything like that. It does interest me. I would not know where to start in trying to see something like that.

• Australia
2 Jul 08
For me I just take my camera and feel the spirit around me and ask them politely to show themselves on film if they can. With each photo that I take that I see them I say thank you and it makes them show themselves alot. This photo was the 20th photo I had taken that night, the first five had nothing and then they just started showing themselves, more and more and more. It is simply amazing! I have taken lots of 'spirit' pictures but still each new one has me dumbfounded - it is just awesome.