Ron recives £200,000 a week @ OT! ??????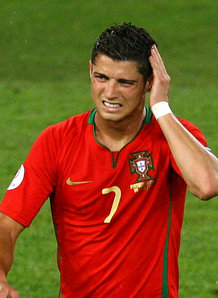 India
June 30, 2008 12:20am CST
Ron recives £200,000 a week @ OT! ?????? i heard so....is it true....any one knows....???if so share info's with us...
5 responses

• Malaysia
6 Jul 08
Hey there DavidNag, i heard somewhere in the newpapers of the internet that in his new contract, he receives about $150,000 pounds per week. I don't think he gets more than that because it would be ridiculous. Considering that he may be leaving OT for Real Madrid, I think it might not even matter.

• United States
28 Jul 08
WOW, thats a lot! I also know that David Beckham makes 200 dollars a second(or minute)!!

• Uganda
29 Jul 08
That is likely considering how mad Fergy is about reatining the boy! In chelsea, am told Abramavich is prepared to pay 250 pounds a week for Kaka! The guys have so much money to throw about I cant even undrstand it!

• Pakistan
1 Jul 08
Yea, He's receiving a huge amount of money because that is what it takes to keep back a player of his calibre and quality. Manchester united needs to do everything to keep him but i don't feel the need to do so. They've got quality players and if a player wants to leave then there's no reason to stop him. He's lived his dream with us and now we should let him live his dream with Real Madrid. he's done a fabulous job for Manchester United and i fail to see why people are criticizing him. He's been an asset. We should learn to respect talent. XD

• India
30 Jun 08
Ha ha ha. No way he earns that. His deal at OT is £120,000 a week and the highest earners in EPL are Ballack,Shevchenko and Terry at £140,000 per week. Lampard is at £130,000 a week. And its said that it was all due to Manutd's refusal to offer Ronaldo an improved contract made him think of a move to Real Madrid. Its reported Real are willing to pay £182,000. And there are also reports saying Manchester United in partnership with NIKE are gonna offer £200,000 a week for Ronnie to prevent him joining Real Madrid, whose sponsors are ADIDAS!!!!!!!