Is it just me or are these a definite turn-on?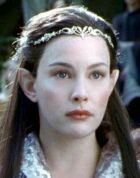 United States
2 responses

• United States
4 Jul 08
I would have to say NO -- definitely NOT! This would be a major turn-OFF for me, personally. Sorry I don't share your opinion. As a matter of fact, my tastes have always seemed a bit different to others because I tend to go for dorky guys -- not dweebs -- but guys who are a little dorky. Intelligence is definitely a turn on, but elf-ears are not!

• Sweden
27 Jun 09
I love elf ears since they are so beautiful and mystery looking. I would like to have an ear pointing procedure, but I can't afford it and I don't know if I'd dare. I don't know if elf ears are "sexy", but they are very graceful and beautiful. I like all elves in LotR, but I think Liv Tyler as Arwen is the sexiest one.