Riding with a bear... not about stock market,, a funny photo.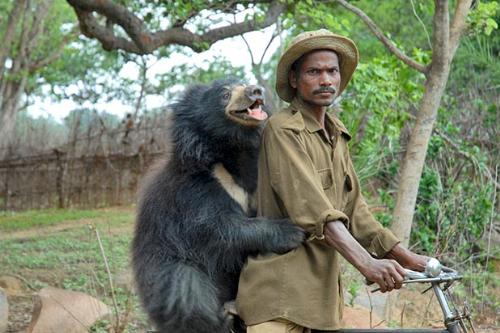 India
July 4, 2008 10:00pm CST
This is one of the strange photos that i have in my collection of photos..The man in the photo, Ram singh Munda, found this sloth bear cub,last year in the forest.. and he cared for this cub.. and brought to his home and cared for it.. Now, the bear and Munda are close friends.. Just take a look at the picture... see how beautiful..and throughly the bear enjoys the ride. PS: Now this man is in Jail,accused of violating wildlife protection laws.
4 responses

•
6 Jul 08
That is a great photo, it shows the respect and trust they have for each other! The bear was lucky to have this man find him they look like great friends! So now this man is in jail what have they done for the bear locked it in cage that is the same as jail why did they do this? This man was preserving wildlife they should thank him for saving the bear?


• China
5 Jul 08

Hello dear friend. It is really cool of this man to ride with a bear. I am sure that they have been very good friends now. But I am sorry that he is accused of violating wildlife protection laws, but I cannot understand why since they have so good relationship and they love each other, as can be seen from the nice photo taken and shown here. Bless him and the bear and thank you so much for the share.