The boys LOVED their fireworks this year!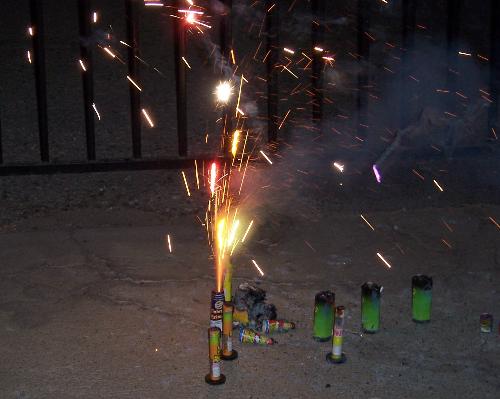 United States
July 6, 2008 2:54pm CST
I moved in with my adult daughter and her three sons, 9, 6, and 3 years old, abour five years ago. For most of that time, we have not done fireworks because they just cost way too much and we didn't think we could fit them into the budget plus it didn't seem important. Well this year, my brother brought over a large package of fireworks for the boys for the 4th of July. It was such a nice thing for him to do and I called him our firework fairy, you know, like the fairy godmother in Cinderella?Anyway, the boys LOVED the fireworks. They were so excited and running around and jumping all over and screeching with excitement. It was a pleasure to see them so excited. The entire experience made both my daughter and I realize how much the boys NEED to have these kinds of experiences. I don't necessarily mean JUST fireworks but that type of celebration and fun. I think we've been cheating the kids out of normal activities because it was convenient for us adults. Well, no more, we are now going to celebrate with fireworks every year that we can! My brother even said he'll pay for the boys to have fireworks every year!
3 responses

•
6 Jul 08
ah that is fantastic that you had the fireworks this year and you all enjoyed them especially the children. we have fireworks each year on guy falks nite (bonfire night in the UK 5 nov) and i have always enjoyed watching them, unfortunalty tho my children who are 2 and 3 years old really dont like them at all and get really scared so they will only watch from inside the house while me and their dad go out and set them off they are inside nice and warm with their nan lol!

• United States
10 Jul 08
Honey Check out what happened in my town while professions put on the show. http://www.youtube.com/watch?v=ji_pguhLfMw The results are that some of the fireworks were defective. One of our firemen is still in critical condition and a few other people had minor injuries..we were lucky! It was awful!

• Canada
6 Jul 08
I'm so glad the boys had such a good time with their firewoks. It sounds like a totally awsome experience. I love it when nice people do nice tings out of the blue, like hat. Those people have much good karma coming their way.