My Pole Beans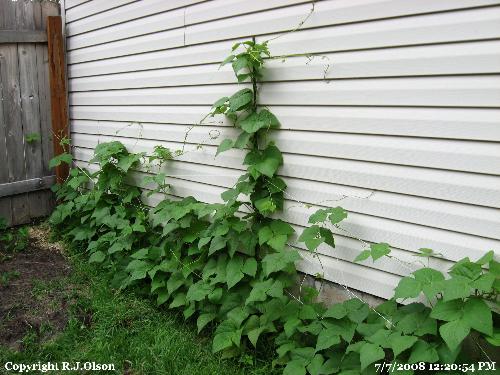 United States
July 7, 2008 12:29pm CST
Okay I need a little help here hopefully. This is a shot of my pole beans. they are getting to a point where they are 9 feet tall,long etc. They were planted Early June possibly late May. There are no flowers yet so therefore no buds or beans yet. How many days is it from planting to harvest also? How long before they will get buds? I have no clue. But this is an awesome looking veggie. Especially if I get some beans from it. There are 30 plants total all along the side of my garage here. Any and all help is greatly appreciated as I have no clue on pole beans. HAPPY POSTINGS FROM GRANDPA BOB !!~
6 responses

• United States
8 Jul 08
9' tall and not even one flower? Now that's odd indeed. My pole beans start flowering when they are about 3' tall. I usually only plant 5-6 being that's more than plenty for my family of three to eat fresh and freeze for later use. Wonder why no flowers for your pole beans. Hope someone else can come up with an answer. I'm curious as to why.

• United States
8 Jul 08
Yeah no idea as to why this is happening. Did you look at the full sized photo? You can tell how tall they are. Looked this morning and seems there may be the start of some flowers but not too sure. HAPPY POSTINGS FROM GRANDPA BOB !!~

• United States
8 Jul 08
Yes I did and rated as the norm for me even thou I didn't comment on it. I can't go out to my garden so far today. It literally poured here on and off for over an hour during the night and now the biting flies are in full force.

•
8 Jul 08
I really have no clue AGB - I should have paid more attention to my Grandads knowledge when he was still with us and I had the chance I guess! I do remember my son crying in the supermarket to get green beans when he was around 4 - I had refused to buy them as we were totally stocked up on veg and they would have gone bad before we got a chance to use them! All the other shoppers thought it was hilarious that a youngster was having a tantrum as he wanted green beans as opposed to unhealthy snacks or toys! lol Hugs xxx

• United States
8 Jul 08
Well I know that once they do flower, if they do, I'll be in beans waist deep. Hahahaha! Cute story. Thanks also. HAPPY POSTINGS FROM AGB !!~

• Lubbock, Texas
7 Jul 08
Pole beans take a little longer to start producing than bush beans. Usually the seed packet tells you if it's 45 days or 60 days. I haven't been able to get seed to come up here at this location and I've been here so long, I've forgotten much of what I knew about growing veggies.

• United States
7 Jul 08
I never actually read the packets. I know not smart, but that's me and the way I garden all the time. Thanks also. HAPPY POSTINGS FROM GRANDPA BOB !!~


• United States
7 Jul 08
Thanks. I have Bell and Banana Peppers and they just starting getting buds this past week. they are all very stunted too so I doubt that I'll get any peppers this year. HAPPY POSTINGS FROM GRANDPA BOB !!~

• United States
11 Jul 08
How cool is that! It's our first year for pole beans as well. If we didn't plant them this year- I would have thought you were crazy. Ours are already over the 6 foot fence and growing down the other side- I hope that they stop growing before they hit the bottom. On the bottom they are already getting flowers- so it won't be long. I have no idea how long it is supposed to take- as it's our first year. I just know that this is going to be so much easier to pick!- we also planted the regular green bean plants too. Let me know when you find out how long they take- then I'll know too- Ours were planted the weekend before Memorial Day..