Do you like tatoos?????......like having them?????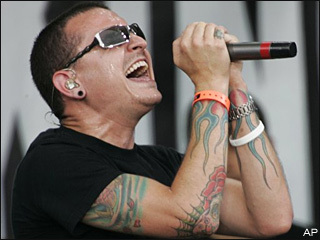 India
July 8, 2008 5:39am CST
I am just curious. Tattoos really attracts me,it looks great when somebody wears it.How about you all????What do you think???
6 responses

• United States
9 Jul 08
I think that it is ridiculous to get tattos. It completely changes your body other that what God intended. If God wanted us to have tattos then He would had us born with them. Just like plastic surgery and things like that is completely disrespectful.

• United States
13 Jul 08
hi tara, i was just curious about something..you said that "if god wanted us to have tattoos, then he would have had us born with them". Well, have you ever flown in an airplane to go somewhere that you yourself chose not to drive because it would take to long? Well, some people also have said that if god intended us to fly, he would have given us wings..but yet, people still fly in plans. Just something to think about. I am one who will not crucify someone because of a choice they made or will make. Because it is not my decision on what they do with their bodies, life, etc. I worry about myself and my family because that is the only thing i have control over in my life.

• United States
8 Jul 08
I like some tattos I don't like when a persons entire body is covered in them though. Just a few are nice. I would love to have one but I am chicken of the needle not sure how much it would hurt.

• Philippines
8 Jul 08
I think tatoo is cute. I don't like big tatoo. I just like cute and small ones. Seeing a guy who has tatoo all over his body is a big turn off to me. I just like it on men. But I don't like it on women. I don't have tatoo because i'm afraid of needles

• Philippines
8 Jul 08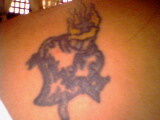 Tattoos for me is an art. It's a way of expressing yourself. I find it attractive and beautiful. I have one on my upper left back. My husband has one too at his right shoulder. I decided to have one as my tribute to my mom who passed away 13 years ago. If you're planning to have one, you must think not just once not twice but think about it a lot of times before you put one on. It will be with you forever.


• United States
8 Jul 08
I like some tattoos. I like the ones where a woman will get one tattooed on her lower backside. my friend has one their and it is an indian symbol. I think it looks cool. I don't have one because, well, I am just too chicken..lol..I hate needles and just the thought of having one on my skin that long, well, forget it..lol.. I am sure it would look nice and all, but I just can't bring myself to do it..My hubby has one on his leg, goes from his ankle up to the middle of his calf. It is of a dragon in-circled in flames. i think it looks cool. He has 3 tattoos in all. But as for me liking them, i like them, just can't bring myself to get one..lol