Where Are The Anti-Theist Seperation of Church and State Left Wing Nuts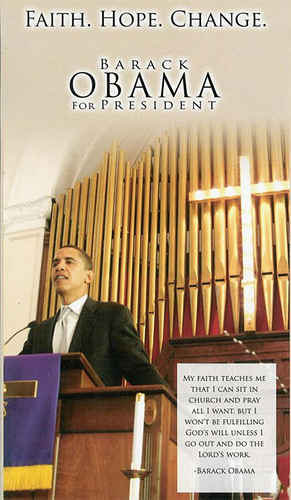 United States
July 8, 2008 8:44am CST
Who said this: My faith teaches me that I can set in my church and pray all I want but I wont be fullfilling God's will unless I go out and do the Lord's will. Any taker, no it was not one of those right wing Evangelical Christians, but none other than Obama. Remember the outrage when Huckabee had the floating cross behind him that turned out to be just a window, I wonder what the outrage from the Seperation of Church and State nuts will say about this picture.
4 responses

• United States
8 Jul 08
Who knows? Not that it really matters, because there is no such thing as Separation of Church and State mentioned in the Constitution.... it doesn't exist. That is just one more thing the Communist ACLU managed to have the Supreme Court rule on, and as seems to be the case all too often, the Supreme Court got it wrong... just as they did in Roe vs. Wade and several other things. Obama uses religion and his "professed" Christianity in hopes of luring the gullible into voting for him. A true Christian does not support the things he supports, nor do they believe that there is more than one way into Heaven. I think Obama is a Christian in name only, and that he is in denial about his true roots.

• United States
8 Jul 08
I think you're making too much of this (as usual). He is just saying that paying lip service to his religion in church is not enough. I'm not christian, but that makes sense to me. Of course, I don't expect this means he'll try to set up a theocracy, or discriminate against non-christians. Huckabee, as a Southern Baptist minister, clearly rang more alarm bells with regards separation of church and state. Obama's style of christianity sits better with me. Christians that advocate war and worship money seem more hypocritical than one who is pro-choice.

• United States
9 Jul 08
I agree with you, brave, but there are those who don't believe there is or should be any separation of church and state so we're going to get absolutely nowhere with them. I'm still for the "don't ask, don't tell" policy when it comes to our politicians and candidates and their religious lives. Annie

• United States
8 Jul 08
I'm a Christian republican that was a strong Huckabee supporter for all (2 weeks, it seemed) of the republican primaries. I didn't like John McCain, and I still don't think he would do as well as Huckabee or Romney, or even Fred Thompson or Rudy Giuliani, for that matter. So when McCain got the Republican nomination, I was unhappy and said I would support Obama before McCain, if he won the primary. He's a Christian, right (just ask him)? How bad could he be? Then I dug deeper. I don't know what Bible he reads, but it certainly doesn't match up with any version I've seen or heard of.

• United States
8 Jul 08
I'll have to run out and buy a copy. ;-)

• United States
9 Jul 08
Based on the fact that liberals probably think he does not mean, they will ignore it. And based on what the "up and coming" Christian Evangelicals want to believe about him, they will think he is the "all around" Christian man they thought he was. How can he being doing God's will when he is for abortion and believes babies born alive during an abortion should be killed? That is not the Lord's will.