Survey site paid me $30.00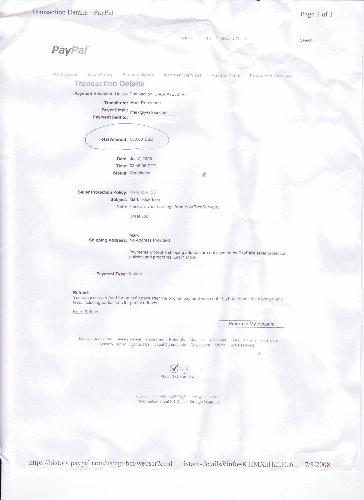 United States
July 8, 2008 11:54pm CST
Another payment. I just received $30.00 from a survey site that paid me via paypal. I did not have to request the payout, they just paid me automatically. I been a member of that site since May and finally have enough to get paid. They have minimum of $30.00 payout and, they also reward new members with $4.00 sign up bonus. It is a great survey site. I also wrote additional information about this survey site posted on my blogsite. Anybody interested in the link, pls PM me. If you do decide to sign up directly, pls remember to read my blogsite about the imitation site that pretends to be the same survey site. Payment proof below.
7 responses

• India
11 Jul 08
well congratulations to you the survey sites are a very good source of income these days and these are greater than my lot s and other links well even i am going for surveys but my earnings are not getting updated well lets see what happens because whatever happens happens for good and well lets how long my plant grows i have beeen giving him everything hardwork patience proper time and concentrations well that was all that i had to say bye cya and take care i will check out your blog cya

• India
14 Jul 08
can you message me that link through which you earned i have also joined some but their frequencies are very less

• Philippines
11 Jul 08
hi there ch88ss! i've visited your profile but i guess i wouldn't be qualified to the paid surveys.,my country is not listed.,

anyway if you know any site that allow international member please PM me and send me the link.,thanks a lot!!! have a nice day ahead! see you around!!!


• United States
11 Jul 08
Hi Myliez I know of a few that accepts int'l members but I have not gotten paid from them yet. If you want you can PM me your email so i can send you the email invite. or you can wait until I get a payment proof then you can send me your email for invite. I will wait for your PM. Thanks

• Malaysia
10 Jul 08
i also wanna know....can i knw the site....

• United States
9 Jul 08
Wow. That's amazing! I am going to check your blog immediately! Thanks for the tip, you always have the nack of finding the great sites. Keep up the good work.

• United States
10 Jul 08
HI Dreemsofdark, Thanks for visiting my blogsite. I usually visit review site and surveypolice before I sign up for sites. I also get a lot of help from other mylot members sharing their experience. Good luck with signing up to this site.

• United States
9 Jul 08
Thanks for the tip. I will be sending you a pm in a minute. Very cool heads up about the imitation site too.


• Hong Kong
9 Jul 08
my location is not listed there either, but wish you good luck on those sites!

• Canada
17 Jul 08
Wow!!! A big congratulations from me on the payment. Good for you. It is always nice to hear when someone gets paid.