"Payment backlogs begone!" stated alt3rn4tiv3 (admin staff, bux.to).

Australia
July 9, 2008 6:22pm CST



Good news yesterday on bux.to forum alt3rn4tiv3 (admin staff) stated that all backlogs of people waiting for their payment will be cleared in 4 weeks. That means that everyone who has been waiting for their payout past their 30 business days for premium members and 60 business days for standard members, should be paid in 4 weeks. I hope this is true, I can't wait. Then hopefully the new bux reload script should arrive and payments will be back to what it says in the terms of service. I requested my first payout on March 13th for $101. After I receive this one then I can request my second payout for $4068. That would be awesome if I can receive this amount in 30 business days after the four weeks.
So who else here is waiting for their payment at bux.to? Are you standard or premium and when did you request? Are you excited about this good news, check out link below with this post from bux.to admin.
http://buxbb.com/index.php?showtopic=50453
6 responses

• India
11 Jul 08
Really?? I don't believe that.. that's really a good news to me. Well I too have been waiting for more then 3 months now and I am tired of waiting for such a long. I will request my second payout as soon as I get paid the first one. Your $4068 amount sounds too good, how many referals's do you have there. I just have 30 and I am planning to get some more soon.

• Australia
26 Jul 08
Fingers croseed, hopefully backlog will be cleared when they say. I have 1050 referrals I have built them up over 4 months, I am pleased with quadrupling my money, now I need to turn this virtual money to real money, then I will be really happy. What date did you request payout? I will let you know if they clear backlog soon, I guess you will know anyway if you get your payout. Let me know if you get your payout? Good luck.

• Philippines
11 Jul 08
Wow! This is good news then. :-D I'm excited.

• Australia
26 Jul 08
Hi littlpiony, how many referrals do you have there? Also when did you request your payout? Keep me updated when you get payout, I will do the same.

•
9 Jul 08
Hi Kiran, I am so pleased for you that you are getting your payout and for others who are waiting and when you get your next payout, what are you going to buy with it? Have fun. Love and Bless. Tamara

• Australia
9 Jul 08
I haven't received payout yet, expecting it shortly, atleast now I know I only have 4 more weeks to receive my first payout. Waited 4 months, another 4 more weeks won't kill me, lol. When I receive my second payout, I am going to put it on my credit card, to reduce my interest rate. Which will be a huge weight off my shoulders. Then when I need money I can use my credit card again. My credit card has been a bit neglected, lol, it needs some food, he he. I might spend a few hundred shopping for me and the kids too.

• Davao, Philippines
26 Jul 08
sounds a good news my friend. i am waiting also my payment for more than 5 months now. i am a standard member of bux.to and requested my first payout last February 15, 2005. hope this promise of the admin will become reality after 4 weeks.

• Philippines
15 Jul 08
This is good news. I requested my payout last month, on June 3rd it was. Before I heard this I was really thinking that it would be fine by me if I get paid in 6 months. Maybe I'll just use my bux.to earnings for a vacation with my boyfriend. Hahahha.

• United States
31 Jul 08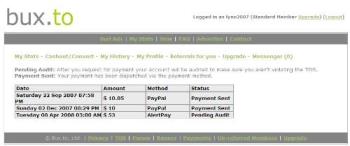 Hi kiran1978. I was thrilled to hear the news of the backlogged payments getting caught up. I am only a free member at Bux.To so my most recent request (my third) was from April 8th, about 3 1/2 months ago. I really hope it's true, as this is my biggest payout so far. Nowhere close to your earnings but the $53 will be nice to finally receive. I hope clearing the backlog will help motivate some of my downline that's gone inactive with the extended payout periods too.