Rabbit Ripper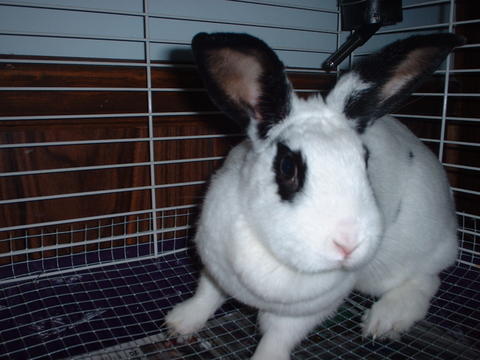 United States
July 11, 2008 7:56am CST
It's a tough time to be a bunny in Germany. In the last year, about 40 pet rabbits have been brutally killed in the Ruhr Valley. Many of them were decapitated. Police call it the worst case of animal cruelty they've seen. According to reports, there are no suspects and authorities don't know the motive of this "Rabbit Ripper of the Ruhr." It's horrible, senseless and bizarre. There's hardly a more defenseless creature than a bunny nibbling on a carrot in a cage. Search may play a role in these crimes. Because many of these rabbits were out of public view, police wonder if the killer, or killers, could be searching through online satellite images to locate hutches tucked away in backyards. And now, people have put up money to help bring this ripper to justice: a reward of 2,500 euros. This is a story being carried on MSN Live. I will add the link as soon as I get back to it, sorry. What punishment would you propose if/when they find these monsters?
5 responses

• Romania
13 Jul 08
some people are just crazy. I can see any reason in murdering someone who can not protect himself, in this case a little bunny that couldn't even screem for his life. They should be jailed. If they wanted a blood sacrifice they should cut theyr own had!

• Canada
14 Jul 08
I'll get my sister to put a curse on them. She does this very well. After that lock them up for life in Siberia.

• United States
12 Jul 08
That is insane, I have worked with animals for the last 8 yrs. and have delt with animal cruelty on countless ocations. I think they should be in prison and after some time they should have to work at an animal shelter on a daily basis for at least 3 years of thier sentence, that would cure any one, trust me they wouldn't know what hit them. I have seen dogs with thier mouths duck taped shut and taped spred eagle to a flat bed truck bringing the dog to the shelter and people who don't adjust the puppies collar and it cuts into the neck. I don't think they should die but they will wish they had.

• Greece
11 Jul 08
It is terrible. It was just yesterday that I read a story about this somewhere on the internet. There was also a mention about a ritualistic and Satanistic manner of these horrible acts. Regardless of the manner it is still a horrible thing. I do not know what the punishment in Germany is, if any, for animal cruelty, but sentencing this person(s) to at least 5 years of jail time, would be the just thing to do.

• United States
11 Jul 08
They have to pay a certain fine,big enough to teach them lesson to be good to this creature! I hope that they will be able to caught anyone who are responsible for this!