Everj bitten by your pet cat?


Philippines
July 11, 2008 8:06am CST
Everyday I play with my cat.I tease my two pet cats.Amongst the two..garfield is the most playful cat.As you can see in my avatar...I was just sitting next to him and my intention was just to touch him but he's probably not in the mood so he does this very cute nibbling on my index finger.My boyfriend was afraid when we made this video,he thought I was hurt..lol.Actually during play time with garfield he usually bites me and when i make a sound and say "ouch" (translate it to our native language for filipinos)he will stop from biting me.he knows when to stop.
4 responses

• United States
11 Jul 08
I've been bitten by my cat before, but that was when I got careless or he wasn't in the mood for play.. or if he was being playful and just nibbling. But I never really mind that much; he doesn't bite unless he's provoked, so it's always my fault if he does it to me. And it's never that serious a thing, either.

• Philippines
11 Jul 08
i have 2 cats and the oldest one really bites hard... if i play with him, he will bite me... if i ignore him, he will still bite me... he's like a prince who doesn't want to be bothered when having a rest.. and when he wants to play, you should not ignore him or else...

• United States
11 Jul 08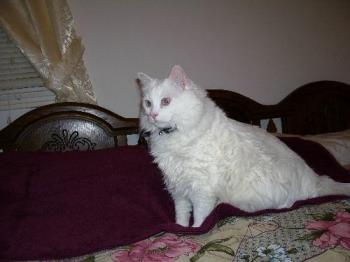 Hahaha, that's how my cat shows his playful affection too. But he usually only does it to my husband and just rubs against me or sits next to me on the sofa. He knows not to play rough with me and that hubby likes it. They have a "paw" fight every night as a regular routine. Then he gets a treat, so he looks forward to it daily.

• Philippines
13 Jul 08
My garfield loves to sleep actually.It's actually fifi...my female persian is the one who is playful..I just want to play with garfield...since he sleeps most of the times..i tickle his side so that i can wake him up...i don't want him to be as lazy as the real garfield.Garfield will get mad at me if i kick the ball for him and he will run...for 15mins. i do that so that he can have exercise.after that tiring play..he will lay down again and will try to sleep...that's the time I am going to tease him and tickle him then that starts our paw fight.LOL.

• Canada
11 Jul 08
My cat nips my hand sometimes when we're playing, but he's ever bitten me that hard.