The Golden Bump

United States
July 12, 2008 5:02pm CST
My golden was born with a very pronounced bump right on top of his head in between the ears. The bumb is about 2 inches long from front to back and about a 1/2 wide. It rises and falls like an arch about 1/4 high at the top. This is actually part of his skull and not soft tissue. I've had many people tell me that this is just a quirk of the breed and is supposed to be there. I've had others tell me that this is very unusual and most goldens don't have it. So, everybody, start petting your golden on top of the head and let's take a survey. Which is true? Do I have anything to worry about?
4 responses

•
6 Aug 08
I don't know. maybe ot's just a birth mark or something. when the puppy has it since birth maybe its just natural.

• United States
12 Jul 08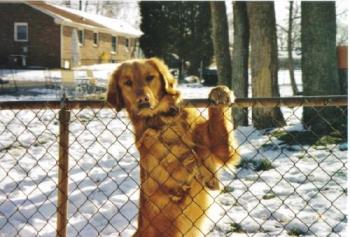 I would have a vet check it out if I were you. My golden had a bump and one vet lanced it for me and said that there seemed to be a lot of hair in it. 6 months later the bump was back and it kept growing until his head looked a bit lopsided to me. I had another vet check it and this time he operated and removed the cyst that was growing in there. A great deal of hair was in it, which the vet said is not uncommon. It seems that sometimes a few hairs can begin growing the wrong direction (like ingrown hair) and then it forms a big cyst. Lancing it works for a while but it just comes back within 6 to 12 months and has to be done again. The obvious alternative is to completely remove it. We opted to have the removal done and he is just fine now. Good luck with your golden.

• United States
13 Jul 08
Thanks for your response nova1945. I don't think it is a cyst. It didn't just appear over a period of time, it has always been with him and is definitely bone material. He has been checked from head to toe by a vet and nothing was ever mentioned by the vet about it. But I will bring it up again the next time I take him.

• United States
12 Jul 08
I think what you're describing is the occipital protuberance. Most dogs have these, but your guy might just have one that's more pronounced than other dogs. There are so many goldens in the world and most have completely inconsistent head forms, so it's very difficult to say whether it's unusual or not for the breed unless you're comparing it to a dog that completely conforms to the breed standard. I'd say not to worry about it, if it's part of his skull. You can always bring up your concerns next time you take him to the vet. Enjoy your pup!


• United States
13 Jul 08
Thanks for your response fluffnflowers. I believe this is part of his skull because he is 2 years old and he has had it since he was born. It has grown with him. It's not soft tissue; it is hard like bone. You don't really notice it until you pet him on the head.