to beard or not not beard, that is my question.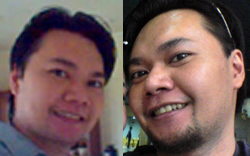 Philippines
July 13, 2008 9:39pm CST
hi everyone, just want to ask you something for me. as you can see i uploaded a photo of me with and without beard. my girlfriend likes it when i do have it. and some of my friends envy me when they see me having it because they can't grow beard like i can. guess i'm blessed. lol. anyway, whenever i visit my parents house. my mother always tells me to remove it cause it looks dirty. and one thing i hate about it is sometimes when i'm sleeping, my neck gets itchy because it's like having many spikes on your chin having to touch your neck. so which do you think look best on me? any comment will help. thanks,
10 responses

• United States
14 Jul 08
Hey

You know what I think you look very nice with facial hair . I think you should keep it , or do both from time to time. It really is up to you , and I dont think it looks dirty . Some men can pull it off and you are one of them.

• Lapu-Lapu City, Philippines
14 Jul 08
Of course, nothing beats nice and clean face. I don't have mustache and I wish I could have it, before. But not anymore. I should keep my face clean. I don't have the matinee idol looks so I have to make it that way. KEEP SMILING = NEIL

• Lapu-Lapu City, Philippines
14 Jul 08
you mean, it is your girlfriend who wants you to look at that way? i guess your beard has a lot of use, lol...

• Philippines
14 Jul 08
hey neildc..what are you trying to say huh?!? LOL.When I read the comments I stopped when I read yours...hmmm...bad boy huh? a lot of use? well let me think? ***wink*** well I love it bec. my baby is so silent type of guy and it will add mystery to his character if he has it.Don't worry I actually help him shave it.You...you...you... hmp... ;p **wink***


• India
14 Jul 08
hi i alwayz wanted to keep a beard-it was a sign of manliness-in my early college days i sported a thick beard.the gurlz were surely attracted to me,reason being my thick,dense beard at an age when most of other boyz only had a few sprouts of hair(why cant it be hairs?)as i grew older,i started sporting a french beard-which was also appreciated a lot,especialy by the women folks.but now being past 30 those things are only memories-with nearly 50% of my beard turned gray,i can no longer keep a beard.my gurl just hates clean shaved ones-he prefers a stuble more to a thick beard or a beard which is just 2-3 days old!



• Australia
14 Jul 08
I think men look younger when clean shaven rather then having a beard also wonder what they are trying to cover up . lol still it's not a long shaggy beard you've got it looks trimed and cared for .

• Philippines
14 Jul 08
I think you look better without the beard...however, since your girlfriend likes it when you have it, I guess the picture did not give justice on how the beard looks on you? Maybe you can have it from time to time, for you to achieve a different look once in a while. Have a great day!

•
14 Jul 08
Hello neilchua, As A woman, I prefer it without the beard, yes I think it does look dirty, I agree with your mother. I am alway telling my husband to shave, sometimes he get lazy and I told him he looks like a dirty old man and just laughs and the go and shave, no boy, go and shave thank you. Taramafireheart.

• Philippines
14 Jul 08
Hi neil. Based on the picture that you've uploaded. In my opinion, you look good with beard.

But I prefer most for guys, specially my husband to be clean looking. Well, it really depends on how the beard was grown or how it will look for them. Happy postings.! HUGZ!