have you ever felt the sweet feeling of the sunset?

India
July 17, 2008 2:55am CST
yes i have felt that sweet feeling and mind get very relaxed and i felt that inner peace......it hard to explain,itz better felt than said..........
4 responses

• Philippines
6 Dec 09
for me sunset symbolizes inner peace.it symbolizes calm.it symbolizes hope.it is nature's way of saying,"tomorrow is another day".it is the way of the sun saying goodbye to the people of the earth.after a hectic day,seeing the sunset make you feel peaceful.

• India
23 Jul 08
Just sit on the beach during sunset and meditate or just soak in the wind. The relaxed feeling that you experience is something that just cant be explained. I too make it a point to be there during sunset whenever i go to the beach.


• Denmark
17 Jul 08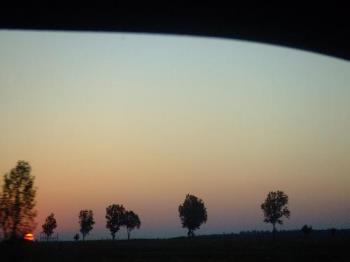 Yes sunsets can be a real revelation if you relax,clear your mind,and meditate on it. Sunrises are nice too,but i would choose a sunset to see or to take a picture of,as the sky has much more colors,and the light is intimate and beautiful... it's a hard to describe atmosphere.. But as i don't have a sunset picture in my pc right now, i will post a sunrise one,that i have taken from the car, this week