A baby Story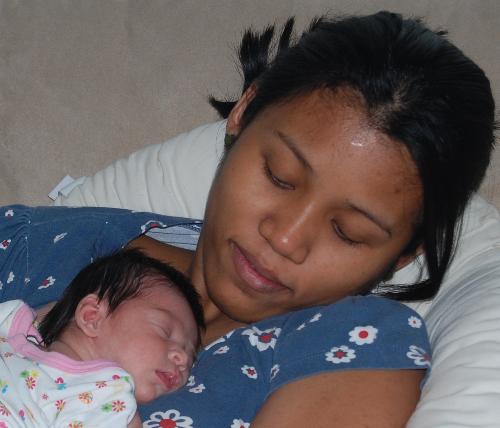 Canada
July 17, 2008 3:12pm CST
I recently gave birth to a healthy baby girl. She came three and a half weeks early. She came out 5lbs and 7ounces. She was tiny but perfect bundle of joy for us. The experience was scary at first. I had no idea what to expect and no idea what to do during nor after birth. I had the epidural because i know i will have low tolerance on pain. That was an awesome decision I've made since it helped me deal with the whole labor process. But when it was time to push and I couldnt push yet, that was difficult. I ended up staying in the hospital for 5days since I had major swelling/bruising. i wasn't sure if it was because of the stitches or just too much rush on pushing which only took me about 35minutes to have the baby out. Every nurse who looked at me down there was shocked by how swollen I was. Since I was too swollen, I couldnt go to the bathroom. they had to put me on catheter. That lasted a day or two and It was depressing. I was in great pain, can barely get in and out of bed with the IV and catheter and the pain. Despite how awesome the result was, a lovely baby girl, it was almost traumatic. Now, I am still healing and recovering. Hopefully it gets better soon so I can at least enjoy taking care of the baby despite the sleepless nights and be brave enough to go out of the house without fearing the pain everytime I walk or sit down.
1 response

• United States
17 Jul 08
Congratulations on haveing your baby how excited you must be. I remember haveing my first. I read all the pregnancy books on what to do for each stage to what to expect during labor to after you have the baby ect. I was a nerviouse reck but I managed just fine. I myself had the epidural for I have a low tolerance for pain and that helped with that. Yes it was hard to tell when I had to push basically I had to go by my judgments and the doctor's. It was 3pm on Aug.16,1998 that the doctor told me I could start pushing and at 4:22pm my son was born it only took an hour and 22 minutes of pushing. He weighed 6 pounds and 12 ounces 19 inches long. He only gave me a paper cut size tear that just needed 2 stiches and I had to stay for the normal 3 days in the hospital then got to go home and bring him with me. I must say I was very lucky for I could have had it bad where I'm tiny only 4'11" small frame build. The doctor's thought I was going to have complications but I didn't thank god. I hope you enjoy your new bundle of joy and good luck. LOLOL my son now almost stands my height seeing it's almost 10 years ago next month Aug. 16,2008 that he was born my god how the time and years fly by. Good luck to you.

• Canada
18 Jul 08
Aww.. Im envious of all those who had it ok and be able to get up the next day and go home. Mine was really depressing especially when I see all those other mothers in the hospital who left the next day. I was normal although even if I have a small baby and I am 5'8, I still had a second degree tear which wasnt as bad as it sounds. It was only the bruising that was really traumatic. Time do fly. My little one is now at a month old and can't build how fast it all went by. One minute we were pregnant then with a baby the next.