Are you afraid of rat?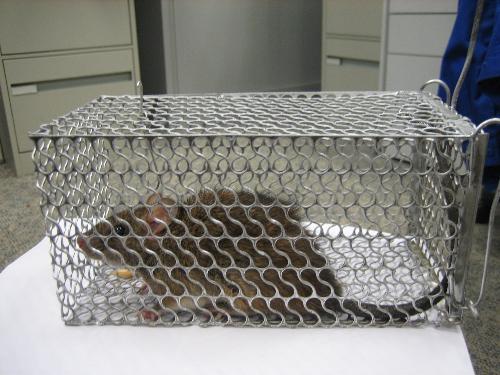 China
July 18, 2008 12:42am CST
A big rat was caught in our work place, it is not a pet of course. I'm afraid of it. I haven't seen the capturing process with my own eyes, otherwise i'd scream i guess.
Enjoy life

5 responses

• United States
18 Jul 08
I would be really afraid if I was in the same room as a rat. They are nasty and can bite and give you diseases. I would try to avoid it/get away as quickly as possible. If it was a pet rat I wouldn't be so afraid. I'm just afraid of getting a bite or a disease.


• India
18 Jul 08
Yes I am vey much afraid of rats . actually I have fobia about insects.I hate them.there was a small rat in my apartment in Boston.it comes out every night from about 11 pm & search for some food.some times it even come out during daytime.it seems that iit has no fear .I told my landlord about this rat.but he ignored.anyway now we have move to columbus.I hope here I will not find any rat.

• China
19 Jul 08

Hello, keya, yeah, it seems that they're not afraid of people now. And cats're turning less and less, some cats are kept as pet and they don't catch rats any more

Glad that you've moved out. Don't put too much food in the house, the mouse will find them, yeah, they really can.
Enjoy life


• United States
18 Jul 08
I've never seen a rat in person. On TV sure, not in person. I'm more familiar with plain old mice. I would have to say I'd be afraid of a rat too, seeing they carry disease along with mice. I don't know if I'd scream, but if I didn't scream it would only be because I was screaming in my head! : )

• Philippines
18 Jul 08
I'm not really "afraid" of them --- unless they're the ones as big as a cat already!. i just don't like them. In the office, they eat our stuff, even paper. No matter how many mouse traps we set, they still won't leave. They even defy the mouse trap! Sheesh! There is also a saying that if you hurt a rat, they will get revenge.


• China
18 Jul 08

Wow, will they really revenge? God, i hope this will never happen.

• United States
18 Jul 08
Were rats always this smart? Maybe PETA is letting loose tested rats and they are breeding to become smarter. I know thats a crazy theory Lol but it's still a thought.

• China
19 Jul 08

Hey, i think they're smart, really. It's difficult to catch them which means they can easily find out people's tricks, huh?

Enjoy life


• India
18 Jul 08
NO i don't but if it attacks then who will not! right in teluge it is called as sundelaka

• China
19 Jul 08
Thanks for sharing. Pardon me, I actully didn't catch you

Enjoy life