The Pregnacy Pizzas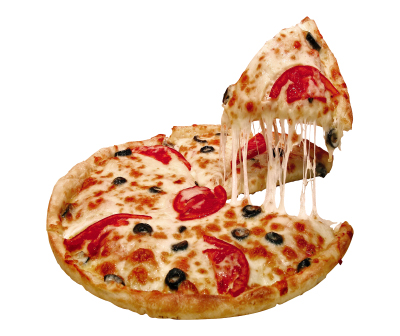 Italy
July 19, 2008 8:05am CST
The ECO restaurant in Chiswick, West london, owned by Charmaine Wasif, lainched the Pregancy Pizzas dedicated to all pregnat woman. The proprietary explains this choice because it was noticed that many pregnat women demanded the pizza ingredients which were not provided menu, and since the customer is always right Charmaine Wasif wanted to meet these demands. The menu includes: Ice cream pizza Mozzarella, tomato, caramelised banana, honey roast ham, sultanas and dried cranberries, fresh mint and dil and a scoop of pistacchio ice cream baked beans sultanas and mozzarella, tomato, baked beans,sultanas, okra, prunes, olives, capers, fresh dill, topped with fresh rocket Steack and seeds mozzarella, tomato, grilled steak, crispy bacon, toasted sunflowers seeds, avocado mozzarella and white-seeds grilled aubergine and lentil Mozzarella, tomato, grilled aubergine, broad beans, puy lentils, baby spinach Florentine Spinach, egg, onion, olives, mozzarella, tomato sauce, garlic olive oil and frsh salmon sour cream and Mozzarella, tomato, fresh salmon, sour cream, capers, dill, fresh watercress. What do you think? What other restaurants of its kind around the world?
7 responses

• Philippines
27 Jul 08
hi zenith! wow that is sooo nice! hehehe well, pregnant women do have crazy tastes, i mean crazier than normal so that would be a nice restaurant to visit. but i wonder if the husbands like these kinds of pizzas, too. lol anyway, i am trying to conceive so these topics interest me. hehe thanks for sharing! good day and God bless you!

• Italy
1 Aug 08
I think that the husbands rather than laugh.... cry when a wife, whil ive in New York, require the husband to go to Lodon to take one of these pizzas.

• United States
27 Jul 08
I loved pizza before I became pregnant but since I have gotten pregnant I cant stand to look smell or even taste pizza any other pregnant women had the same problem? and did were you able to eat pizza again after baby arrived?

• Slovenia
20 Jul 08
lol this is hilarious!! :)))) Reminds me of my cousin who used to eat bread with butter and marmelade AND ham and cheese & cucumber!!! /Don't worry, she wasn't pregnant yet, at the time!! BUT it makes me shudder what she would eat when she would get pregnant?!!! OoO lol/ Maybe now I can send her to this pizza place, or something like that :)

• Italy
21 Jul 08
It alla depends on what you are away from London. But it might be a good excuse to make a nice trip. No?

• Philippines
20 Jul 08
Good day...I thinks its a good idea and a good investment. I never heard of anything like it from here.

• Italy
21 Jul 08
There is always a first time and there is always the first one who has a good idea and realized.

• Philippines
19 Jul 08

[b]Hmmm...pregnacy pizza. I love pizza.

One of my favorite foods. Watching the picture makes my mouth water. Too bad it's expensive here in my country.[/b]


• Italy
20 Jul 08
If you like pizza but is expansive to your contry you can always have it at home. Here you can find the explanation on how to make dough for pizza and some recipes http://www.helium.com/items/995938-recipes-pizza. I hpes to have been useful

• United States
19 Jul 08
That's a neat concept but some of those toppings, pregnant or not, sound a little scary on pizza. I love carmelized banana and sunflower seeds, etc but not on pizza with those other items. I'd love some tomato, avocado, olives..just the veggies please :-)

• Italy
20 Jul 08
Do not restrain your imagination: on the pizza you can put what you want. Only careful to coupling of flavors.

• Finland
19 Jul 08
not pregnant, but now craving for a pizza. thank you very much!!! hehe I would like one with: mozzarella, capris grilled aubergine and spinach. but now serious. No I have never heard of the concept, but it is a good idea. In general I would love to see some new pizza flavours around here but it is ham and onion all around if you get my drift...

• Italy
20 Jul 08
On the pizza you can put any seasoning, of course we must will the flavors to get a good result. I am sorry but today I did not capris grilled aubergine for your pizza...jajajaja We hope a good day.