What craft are you working on now??

United States
July 21, 2008 6:02pm CST
I am currently making jewelry from bamboo tiles that I got from bamboo tile placemats , you take them apart and then you have these tiles that are really neat and already have holes drilled through them for the wire and you can decorate them anyway you want. I am doing some with decoupauge and others I am puting beads on , Put them on chains or some of them I am putting on black seude string. Really cool. What crafts are you working on???????
3 responses

• United States
22 Jul 08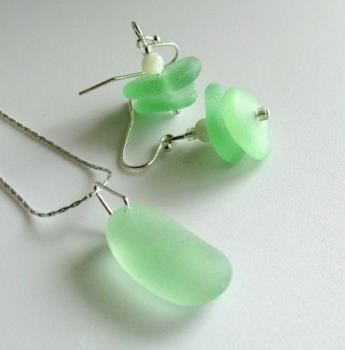 I'm replenishing my handmade jewelry shop with several sea glass creations. My s/o did some drilling for me and I have 6 pieces either made or in progress. (one of the pieces sold overnight...yay!) Next I'll be making a few glass bead bracelets and a couple pairs of earrings. I have a couple of craft fairs in early August and need to build up my inventory. I hope you'll upload a picture of your creations when your done...I'd love to see them!

• United States
21 Jul 08
i used to knit a lot. i've made a hooked rug. but i haven't done a craft for years. i lost the drive for it. it happened after some physical labor jobs i had in warehouses. they did me in.

• United States
21 Jul 08
I am doing this needlepoint picture of butterflies.